Government agencies that support regulate and monitor business
by john wei zulueta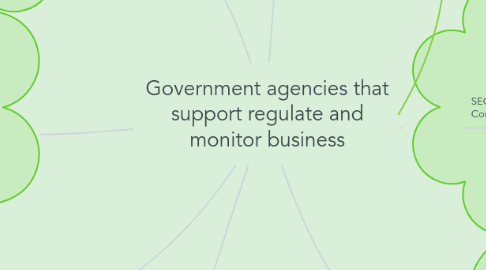 1. DTI ( Department of Trade and Industry.
1.1. The Philippine Department of Trade and Industry is the executive department of the Philippine Government tasked as the main economic catalyst that enables innovative, competitive, job generating, inclusive business, and empowers consumers
2. SEC ( Securities and Exchange Commission.
2.1. The Securities and Exchange Commission is the agency of the Government of the Philippines responsible for regulating the securities industry in the Philippines. In addition to its regulatory functions, the SEC also maintains the country's company register.
3. BIR (Bureau of Internal Revenue)
3.1. The Bureau of Internal Revenue (Filipino: Kawanihan ng Rentas Internas, or BIR) is an agency of Department of Finance. BIR collects more than half of the total revenues of the government.
4. PEZA (Philippine Economic Zone Authority) /BOI (Bureau of Immigration)
4.1. attached to the Department of Trade and Industry - is the Philippine government agency tasked to promote investments, extend assistance, register, grant incentives to and facilitate the business operations of investors in export-oriented manufacturing and service facilities inside selected areas throughout the country proclaimed by the President of the Philippines as PEZA Special Economic Zones.
5. SSS/PHILHEALTH/PAG-IBIG
5.1. The Philippine Social Security System (SSS) is a social insurance program for employees in the Philippines. Founded in 1957, the SSS is a government agency that provides retirement and health benefits to all paid up employees in the Philippines.
6. Local Barangay
6.1. A barangay or baranggay (/bɑːrɑːŋˈɡaɪ/ (abbreviated as Brgy. or Bgy.), formerly referred to as barrio, is the smallest administrative division in the Philippines and is the native Filipino term for a village, district or ward.
7. City Hall
7.1. A Business Permit is sometimes also referred to as a Mayor's Permit because it is processed at the City Hall – the office of the mayor. Securing a business permit from the Mayor's Office can only be done after accomplishing two other registrations: