GOVERNMENT AGENCIES THAT SUPPORT, REGULATE AND MONITOR BUSINESSES
by Anne Desiree Mercader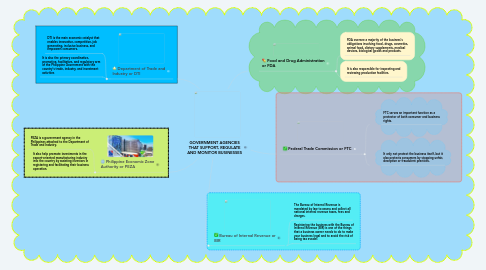 1. Food and Drug Administration or FDA
1.1. FDA oversee a majority of the business's obligations involving food, drugs, cosmetics, animal food, dietary supplements, medical devices, biological goods and products.
1.2. It is also responsible for inspecting and reviewing production facilities.
2. Federal Trade Commission or FTC
2.1. FTC serves an important function as a protector of both consumer and business rights.
2.2. It only not protect the business itself ,but it also protects consumers by stopping unfair, deceptive or fraudulent practices.
3. Department of Trade and Industry or DTI
3.1. DTI is the main economic catalyst that enables innovative, competitive, job generating, inclusive business, and empowers consumers.
3.2. It is also the primary coordinative, promotive, facilitative, and regulatory arm of the Philippine Government with the country's trade, industry, and investment activities
4. Philippine Economic Zone Authority or PEZA
4.1. PEZA is a government agency in the Philippines attached to the Department of Trade and Industry.
4.2. It also help promote investments in the export-oriented manufacturing industry into the country by assisting investors in registering and facilitating their business operation.
5. Bureau of Internal Revenue or BIR
5.1. The Bureau of Internal Revenue is mandated by law to assess and collect all national internal revenue taxes, fees and charges.
5.2. Registering the business with the Bureau of Internal Revenue (BIR) is one of the things that a business owner needs to do to make your business legal and to avoid the risk of being tax evader.