Government Agencies that Support, Regulate, and Monitor Businesses
by Mary Naraga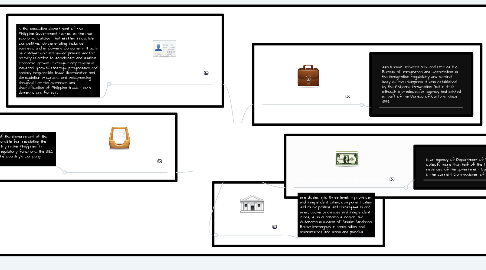 1. BOI (Bureau of Immigration)
1.1. also known between 1972 and 1987 as the Bureau of Immigration and Deportation, is the immigration regulatory and control body of the Philippines. It was established by the Philippine Immigration Act in 1940, although a predecessor agency had existed as part of the Bureau of Customs since 1899.
2. BIR (Bureau of Internal Revenue)
2.1. is an agency of Department of Finance. BIR collects more than half of the total revenues of the government. Caesar Dulay is the current Commissioner of BIR.
3. DTI (Department of Trade and Industry)
3.1. is the executive department of the Philippine Government tasked as the main economic catalyst that enables innovative, competitive, job generating, inclusive business, and empowers consumers. It acts as catalyst for intensified private sector activity in order to accelerate and sustain economic growth through comprehensive industrial growth strategy, progressive and socially responsible trade liberalization and deregulation programs and policymaking designed for the expansion and diversification of Philippine trade - both domestic and foreign.
4. SEC (Securities and Exchange Commission)
4.1. is the agency of the Government of the Philippines responsible for regulating the securities industry in the Philippines. In addition to its regulatory functions, the SEC also maintains the country's company register.
5. Local Barangay
5.1. are divided into three levels – provinces and independent cities; component cities and municipalities; and barangays. In one area, above provinces and independent cities, is an autonomous region, the Autonomous Region of Muslim Mindanao. Below barangays in some cities and municipalities are sitios and puroks.