GOVERNMENT AGENCIES THAT SUPPORT, REGULATE AND MONITOR BUSINESSES
by Marwen Tamidles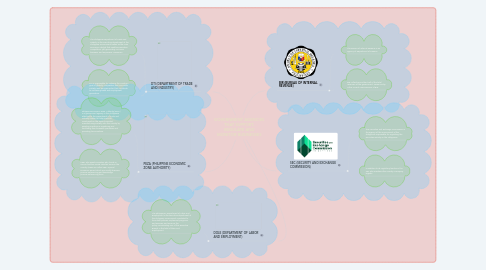 1. BIR (BUREAU OF INTERNAL REVENUE)
1.1. The Bureau of Internal Revenue is an agency of Department of Finance.
1.2. BIR collects more than half of the total revenues of the government. Caesar Dulay is the current Commissioner of BIR.
2. SEC (SECURITY AND EXCHANGE COMMISSION)
2.1. The Securities and Exchange Commission is the agency of the Government of the Philippines responsible for regulating the securities industry in the Philippines.
2.2. In addition to its regulatory functions, the SEC also maintains the country's company register.
3. DTI (DEPARTMENT OF TRADE AND INDUSTRY)
3.1. The Philippine Department of Trade and Industry is the executive department of the Philippine Government tasked as the main economic catalyst that enables innovative, competitive, job generating, inclusive business, and empowers consumers.
3.2. DTI is responsible for realizing the country's goal of globally competitive and innovative industry and services sector that contribute to inclusive growth and employment generation.
4. PEZA (PHILIPPINE ECONOMIC ZONE AUTHORITY)
4.1. Philippine Economic Zone Authority (PEZA) is a government agency in the Philippines attached to the Department of Trade and Industry created to help promote investments in the export-oriented manufacturing industry into the country by assisting investors in registering and facilitating their business operations and providing tax incentives.
4.2. PEZA also assists investors who locate in service facilities inside selected areas in the country (areas are called PEZA Special Economic Zones) which are usually business process outsourcing and knowledge process outsourcing firms.
5. DOLE (DEPARTMENT OF LABOR AND EMPLOYMENT)
5.1. The Philippines' Department of Labor and Employment is the executive department of the Philippine Government mandated to formulate policies, implement programs and services, and serve as the policy-coordinating arm of the Executive Branch in the field of labor and employment.