EMERGING PEDAGOGIES AND EMERGING TECHNOLOGIES
by miguel alexis gonzalez chuc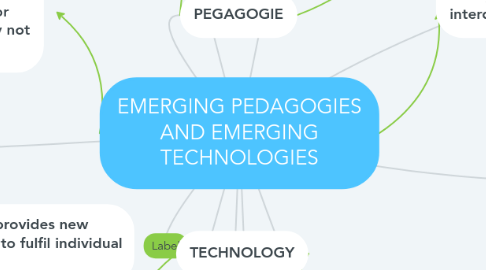 1. TECHNOLOGY
2. - Technology provides new opportunities to fulfil individual learning.
3. Veletsianos defines emergent technologies as "tools, concepts, innovations, and advancements utilized in diverse educational settings to serve varied educationrelated purposes" (2010, 33)
4. - Transforms educational practice.
5. - No technology has an impact on learning in its own right; rather, its impact depends on the way it is used.
6. - Technology is not something external; it is the context in which learning takes place.
7. - Emergent technologies and emergent pedagogies are interdependent.
8. PEGAGOGIE
9. - Formal education should provide more flexible learning systems to accommodate the different needs and demands of students.
10. - The potential of ICT for promoting learning opportunities depends on the skills used to design learning activities that align pedagogy and technology for the benefit of learners.
11. 2- THE FUTURE OF LEARNING
11.1. 1) MOBILE TECHNOLOGY:
11.1.1. - The availability of multiple applications designed to support learning.
11.1.1.1. - Permanent connection
11.2. 2) LEARNING ANALYTICS
11.2.1. Tools and techniques for collecting, analyzing and displaying data related to participation, performance and student progress
11.3. 3) GAMES AND GAMIFICATION
11.3.1. The use of game mechanics in non-game contexts in order to engage students.
11.4. 4) HYBRIDIZATION
11.4.1. - Realidad aumentada
11.4.1.1. - Dispositivos de tecnología wearablet
11.5. 5) NATURAL INTERACTION WITH DEVICES
11.5.1. Systems to interact with devices through facial expressions, gestures or voice recognition.
12. - Ng ´ambi considers that emergent technologies are context-specific, what is emerging in one context or geographical location may not be emerging in another
13. emerging technologies to further educational goals may necessitate the development of different theories, pedagogies, and approaches to teaching, learning, assessment, and organization.
14. 3- THEORETICAL FOUNDATIONS OF EMERGING PEDAGOGIES
14.1. Pedagogy and education refer to the whole context of instruction and the actual operations involved therein.
14.2. pedagogy expresses the relationship between teaching and learning and does not treat teaching as something that can be considered separately from an understanding of how learners learn.
14.3. Professional competencies: content knowledge, pedagogical knowledge and technological knowledge.
14.4. "Pedagogical content": in many countries is called didactics.
14.5. Alexander (2004) defines pedagogy as the activity of education together with its attendant discourse
14.6. Pedagogy: a complex evolving phenomenon based on the changing contexts of society.
14.7. Emergent pedagogy becomes a dynamic phenomenon that provides new scenarios for learning.
14.8. Some theories of learning continue to be useful because emerging technologies are often applied to the same challenges and problems that inspired educators and researchers.
15. 4. THEORIES FOCUSED ON NETWORK CONNECTIONS
15.1. - Networked learning
15.1.1. Is learning in which information and communications technology (ICT) is used to promote connections: between one learner and other learners; between learners and tutors; between a learning community and its learning resources."
15.2. - Networked learning:
15.2.1. Encompasses theoretical assumptions about learning and how to design for learning.
15.3. - Networked learning:
15.3.1. It does not privilege a particular pedagogical model.
15.4. - Learning and knowledge construction between teachers and students emerging from critical dialogue and enquiry.
15.5. - Connectivism
15.5.1. Is related with networked learning theory.
15.6. Network
15.6.1. It characterizes knowledge as a flow through a network of humans and non-humans (artefacts). A network comprises connections between entities (nodes), where the nodes can be individuals, groups, systems, fields, ideas, resources or communities.
15.7. Learning networks can be perceived as structures that we create in order to stay current and continually acquire experience, create, and connect new knowledge (external).
16. 5. THEORIES FOCUSED ON SOCIAL-PERSONAL INTERACTION
16.1. - Individualism:
16.1.1. A society in which lifelong learning is basic, self-determined learning is crucial.
16.1.1.1. Helps increase the subject's motivation and commitment to learning.
16.2. - Self-determined learning (SDL)
16.2.1. Is an approach in which learners take control of their own learning processes and experiences.
16.2.1.1. - The processes of SDL:
16.2.1.1.1. a) ownership of learning; b) self-management and self-monitoring; and c) extension of own learning.
16.3. Appears the term "heutagogy"
16.3.1. The study of self-determined learning.
16.3.1.1. - In a heutagogical approach to teaching and learning:
16.3.1.1.1. Learners are highly autonomous and self-determined and emphasis is placed on the development of learner capacity and capability with the goal of producing learners who are well prepared for the complexities of today's workplace.
16.3.2. In heutagogy the instructor also facilitates the learning process by providing guidance and resources, but fully relinquishes ownership of the learning path and process to the learner, who negotiates learning and determines what will be learned and how it will be learned.
16.3.3. A key concept in heutagogy is that of double-loop learning and self-reflexion.
16.3.3.1. Learners consider the problem and the resulting action and outcomes in addition to reflecting upon the problem-solving process and how it influences the learner's own beliefs and actions.
16.4. The heutagogical approach
16.4.1. Can be viewed as a progression from pedagogy to andragogy to heutagogy, with learners likewise progressing in maturity and autonomy (Canning, 2010).
16.4.1.1. MATURITY
16.4.1.1.1. More mature learners require less instructor control and course structure and can be more self-directed in their learning, while less mature learners require more instructor guidance and course scaffolding
16.5. The WEB 2.0 and Social Media
16.5.1. An important role in generating new discussions about heutagogy within higher education.
16.5.2. Supports a heutagogical approach by allowing learners to direct and determine their learning path and by enabling them to take an active rather than passive role in their individual learning experiences.
17. 6. THEORIES FOCUSED ON THE AFFORDANCES/DESIGN OF THE NETWORK
17.1. The learning as a network (LaaN)
17.1.1. An emerging concept and a new vision of learning.
17.1.2. It puts the learner at the centre and provides more autonomy and control over the learning experience.
17.1.3. Builds upon connectivism, complexity theory and double-loop learning.
17.1.4. It views knowledge as a personal network and represents a knowledge ecological approach to learning.
17.1.5. Its focus on the learner and their Personal Knowledge Network (PKN) is quite different.
17.1.6. It implies that a learner needs to be a good knowledge networker as well as a good double-loop learner.
17.1.6.1. Is one who has the ability to detect and correct errors and eventually change his or her theories-in-use according to the new setting.
17.2. PLE
17.2.1. Is a more natural and learner-centric approach to learning that takes a small piece.
17.2.2. Loosely-joined approach
17.2.3. Characterized by the freeform use of a set of learner-controlled tools and the bottom-up creation of knowledge ecologies
17.3. A good knowledge networker:
17.3.1. Is one who can create and maintain an external network to embrace new knowledge nodes.
17.3.2. Identify connections between different knowledge nodes.
17.3.3. Locate the knowledge node that can help to achieve better results, in a specific learning context.
17.4. New roles for the learning institution and the teacher.
17.4.1. The learning institution needs to act as a hub connecting third parties providing personalized learning experiences for the learners.
17.4.2. Teachers need to step back from their traditional role of instructors and experts.
17.4.3. The new role of the teachers is to act as co-learners and facilitators of the learning experience.
17.4.3.1. Their major task is to help learners build their personal knowledge network in an effective and efficient way.
17.4.4. The way to achieve this goal:
17.4.4.1. According to Chatti (2013), is to provide a freeform and emergent environment conducive to networking, inquiry and trial-and-error.
17.4.4.2. It should be an open environment in which learners can make connections, see patterns, reflect, (self)-criticize, detect and correct errors, inquire, test, challenge and eventually change their theories-in-use.
18. 7. CHARACTERISTICS OF EMERGING PEDAGOGIES
18.1. 1. Emerging pedagogies support lifelong learning.
18.1.1. Emerging pedagogies provide practices to support lifelong learning.
18.1.2. The curriculum must enable individuals to learn to work effectively within social networks for educational, social and civic purposes, and to develop strategies to establish social networks for their own purposes.
18.2. 2. Emerging pedagogies support ecologies of learning.
18.2.1. Makes the assumption that learning is multidirectional and multi-modal and learning is understood as part of living in different socio-cultural contexts, not as something that takes place exclusively within the confines of formal education.
18.3. 3. Emerging pedagogies use different forms of knowledge.
18.3.1. Are based on the knowledge creation metaphor of learning that highlights competencies in producing knowledge.
18.4. 4. Emerging pedagogies integrate the use of technology as mindtools.
18.4.1. Use of technology, as a 'mindtool' or 'intellectual partner' for creativity, collaboration and multimedia productivity.
18.5. 5. Emerging pedagogies change the traditional role of teachers and learners.
18.5.1. Technology in the new model is pervasive and it is used to discover and master content knowledge and to enable the deep learning goals of creating and using new knowledge in the world.
18.6. 6. Emerging pedagogies integrate self-regulation, co-regulation and social share regulation.
18.6.1. The Personal Learning Environment (PLE) is useful
18.6.1.1. Use web 2.0 tools and networked technologies, and refers to an individual's own knowledge management tools, services, resources and connections which shape their educational platform to direct learning.
18.7. 7. Emerging pedagogies promote deep learning tasks.
18.7.1. Deep learning tasks re-structure learning activities from a singular focus on content mastery to the explicit development of students' capacities to learn, creates and proactively implement their learning.
18.8. 8. Emerging pedagogies are transparent.
18.8.1. Pedagogical reasoning must be as transparent as possible and shared between students, teachers and others involved in students' learning.
18.9. 9. Emerging pedagogies are based on socio-constructivist pedagogies.
18.9.1. The new ideas have greater precision, specificity, clarity and, above all, greater learning power.
18.9.1.1. Emerging pedagogies need to explore and re-examine existing pedagogies by looking into their contribution in the contexts of the networked knowledge society.
18.10. 10. Emerging pedagogies demands new forms of assessment.
18.10.1. The use of technology for evaluating.
18.10.2. Students can continuous during a course enable learners to focus on areas of weakness.
19. REFERENCES
19.1. Springer-Verlag Berlin Heidelberg 2016. B. Gros et al. (eds.), The Future of Ubiquitous Learning, Lecture Notes in Educational Technology, DOI 10.1007/978-3-662-47724-3_1
20. The relation with our project:
20.1. The use of a webpage to learn and improve writing for formal and academic purposes
21. Using a mixture of theories focused on the affordances/design of the network and theories focused on social - personal interaction, the develoepment and application of our projectc could be helpful for English learners to improve their writing skills. In this way, learners can acquire autonomy and self-management/monitoring of their own way learning.