4.What impact have the weather on beer consumption?
by Anna Pyatkina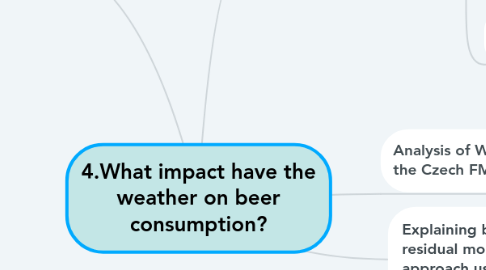 1. 1.What and how influences on consumer choice ?
1.1. What influences consumption? Consumers and beyond: Purposes, contexts, agents and history
1.1.1. 3.What impact have the weather on consumption of FMCG products?
1.1.1.1. Predicting consumer variety-seeking through weather data analytics
1.1.1.2. "The effect of weather on consumer spending "
1.1.1.3. "The relationship between temperature and sales: Sales data analysis of a retailer of branded women's business wear "
1.1.1.4. "The Association Between Daily Weather and Daily Shopping Patterns "
1.2. Identifying problems in forecasting consumer demand in the fast moving consumer goods sector
2. Analysis of Weather Effect on Sales in the Czech FMCG Market
3. Explaining beer demand: A residual modeling regression approach using statistical process control
4. 2.What influences on beer consumption?
4.1. Factors Associated with Alcoholic Beverages Consumption in Russia: A Discrete Choice Model
4.2. "Alcohol consumption and individual time preferences of Russians "
4.3. Economic Growth, Globalisation and Beer Consumption
4.4. "Forecasting the Primary Demand for a Beer Brand Using Time Series Analysis "
4.5. Prevalence and socio‐economic distribution of hazardous patterns of alcohol drinking: study of alcohol consumption in men aged 25–54 years in Izhevsk, Russia
4.6. How economic crises affect alcohol consumption and alcohol-related health problems: A realist systematic review
4.7. Drinking in transition: trends in alcohol consumption in Russia 1994-2004
4.8. Employment, Wages, and Alcohol Consumption in Russia
4.9. Investigating the volume and structure of alcohol consumption in Russian regions
4.10. Factors Associated with Alcoholic Beverages Consumption in Russia: A Discrete Choice Model