SEVEN HABITS OF SUCCESSFUL STUDENTS
by Julieta Fernández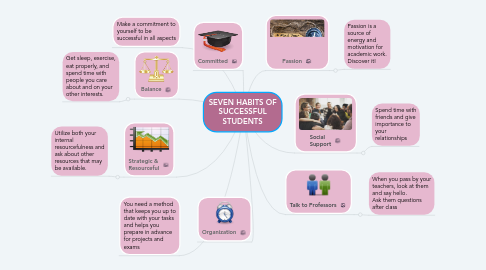 1. You need a method that keeps you up to date with your tasks and helps you prepare in advance for projects and exams
2. Make a commitment to yourself to be successful in all aspects
3. Passion
3.1. Passion is a source of energy and motivation for academic work. Discover it!
4. Social Support
4.1. Spend time with friends and give importance to your relationships
5. Talk to Professors
5.1. When you pass by your teachers, look at them and say hello. Ask them questions after class
6. Organization
7. Strategic & Resourceful
7.1. Utilize both your internal resourcefulness and ask about other resources that may be available.
8. Balance
8.1. Get sleep, exercise, eat properly, and spend time with people you care about and on your other interests.
9. Committed