Project-Oriented Organization and its contribution to innovation
by David Nino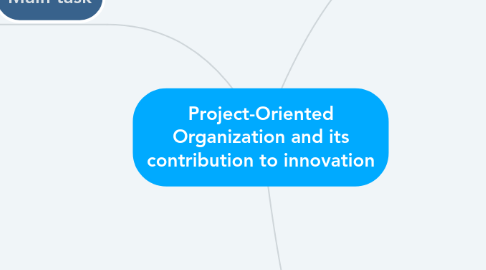 1. Project-based Organizations
1.1. New functionalities, enabled by new technologies
1.1.1. It is successful only if customer and supplier share the same goal.
1.2. Complex product system is offered to one single customer by a network of contractors.
2. Main task
2.1. Lead the organization properly, to get right project managers and proper staff, Based in three segments.
2.1.1. Values
2.1.1.1. Based on three core values
2.1.1.1.1. Future Orientation
2.1.1.1.2. Entrepreneurial orientation
2.1.1.1.3. Stakeholder orientation
2.1.2. Structures
2.1.2.1. Increases the need to coordinate and control project landscapes when they executed simultaneously.
2.1.2.1.1. Organization of structures and processes.
2.1.2.1.2. Planning and controlling.
2.1.2.1.3. ICT systems to support decision-making
2.1.3. People
2.1.3.1. People learn from previous experiences to be applied in other projects based on three components.
2.1.3.1.1. Leadership and temawork
2.1.3.1.2. Competence development and career systems.
2.1.3.1.3. Knowledge management.
3. Outlook
3.1. Innovation leaders have developed variety of methods to generate better and more ideas.
3.1.1. Leaders can choose among higher valued projects with more mature and better tested business plans.
3.1.1.1. Innovation leaders are more open to voice behavior of their project managers. they recognize the opportunities of change.
3.2. Innovation leaders respond more efficiently upon unexpected risks and opportunities.
3.2.1. Team members have preference for a greater fuidity, and variability of knowledge, skills and the division of the labor.