Crucial Learning and Topic within the Queensland Drama Curriculum (Years 7-10)
by Tilly Austin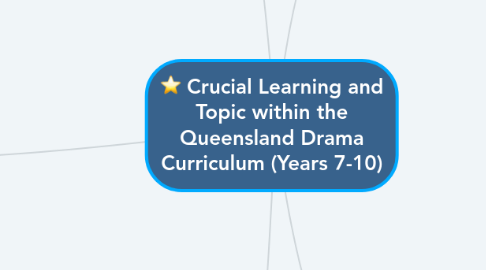 1. The Elements of Drama
1.1. - Tension of relationship, task, mystery and surprise.
1.1.1. To identify the elements of drama in-order to engage, entertain and challenge students when making, presenting and forming performances in-order to create dramatic meaning .
1.1.2. Students, create, rehearse, perform and respond using the elements and conventions of drama, as well as emerging and existing technologies available.
1.1.3. Students actively use body, gesture, movement, voice and language, taking on roles to explore and depict real and imagined worlds.
1.2. - Vioce
1.3. - Gesture
1.4. - Movement
1.5. - Body
1.6. - Language
1.7. - Symbol
1.8. - Space
1.9. - Focus
1.10. - Mood
1.11. - Roles and Relationships
1.12. - Character
2. Collaborative and co-operative work
2.1. Team building skills and collaborative work skills are developed through the dramatic process
2.2. Drama enables students to imagine and participate in the exploration of their worlds, individually and collaboratively.
3. Confidence
3.1. They are excited by exploring their imagination and taking risks in storytelling through role and dramatic action.
3.2. Students learn to think, move, speak and act with confidence.
3.3. Like all art forms, drama has the capacity to engage, inspire and enrich all students, excite the imagination and encourage students to reach their creative and expressive potential.
3.4. Through gaining and growing their confidence within a drama environment, students are able to further apply this in other areas of their lives.
4. The analysis of texts and other works
4.1. Creating dramatic meaning from texts
4.2. Enables students to participate in the exploration of themselves and others
4.2.1. The exploration of other cultures views, values, ideas and philosophies.
4.3. Students develop a sense of inquiry and empathy by exploring the diversity of drama in the contemporary world and in other times, traditions, places and cultures.
4.4. Students create meaning as drama makers, performers and audience members as they enjoy and analyse their own and others' stories and points of view.
4.5. Students learn how to form and express their own opinions and interpretations through the analysis of text and other works.
4.6. Students learn how to engage as audience members
5. Performance skills
5.1. They are excited by exploring their imagination and taking risks in storytelling through role and dramatic action.
5.2. In making and staging drama students learn how to be focused, innovative and resourceful, whilst being collaborative and take on responsibilities for drama presentations.
5.3. The ability to rehearse and interpret meaning in performance work.
5.4. Understanding and creating meaning on stage through the employment of blocking and movement.
5.5. The ability for students to create discerning character traits and roles on stage through the rehearsal and interpretation of performances and lines.
5.6. To engage and inform audience members through performance work