Scriblink
by Natalie Lemery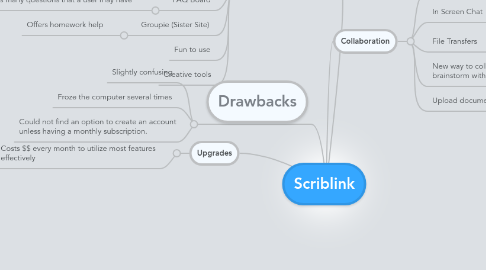 1. Upgrades
1.1. Costs $$ every month to utilize most features effectively
1.1.1. The price points are in 3 levels: Silver/$9, Gold/$19, Platinum/$29
1.1.1.1. Depending on how much $$ you spend allows for you to invite more users. The lowest version is 10 and the Platinum is 20.
1.1.1.1.1. Limited number of hours
2. Strengths
2.1. Scriblink Business Solutions
2.1.1. 3 Levels of Program
2.1.1.1. Personally Customize
2.1.1.1.1. Ability to create your own business profile
2.2. No Installation on home Computer
2.2.1. No software required for use of any of it's functions
2.3. Private
2.3.1. Only people you invite can contirbute
2.4. Real Time/Present
2.5. Keep the work
2.5.1. Allows participants to save the work done on the whiteboard.
2.6. FAQ Board
2.6.1. Covers many questions that a user may have
2.7. Groupie (Sister Site)
2.7.1. Offers homework help
2.8. Fun to use
2.9. Creative tools
3. Drawbacks
3.1. Slightly confusing
3.2. Froze the computer several times
3.3. Could not find an option to create an account unless having a monthly subscription.
4. Collaboration
4.1. Voice Conferencing
4.1.1. Free to talk
4.2. In Screen Chat
4.2.1. Participants can chat face to face during conference
4.2.1.1. No need for additional software
4.3. File Transfers
4.3.1. Send files to team members utilizing the system
4.4. New way to collaborate and hold meetings and brainstorm with team members.
4.5. Upload documents & Images
4.5.1. Uploads allow to share files with participants