My Network
by Ren Dollevoet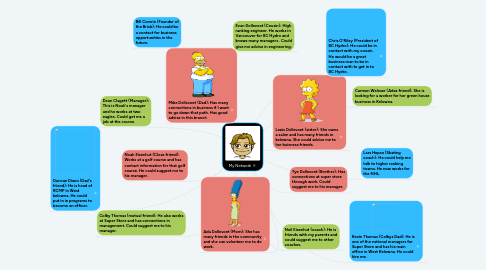 1. Colby Thomas (mutual friend): He also works at Super Store and has connections in management. Could suggest me to his manager.
2. Carmen Weleser (Adas friend): She is looking for a worker for her green house business in Kelowna.
3. Dean Clagett (Manager): This is Noah's manager and he works at two eagles. Could get me a job at the course
4. Lexis Dollevoet (sister): She owns a salon and has many friends in kelowna. She could advise me to her buisness friends.
5. Ada Dollevoet (Mom): She has many friends in the community and she can volunteer me to do work.
6. Mike Dollevoet (Dad): Has many connections in business if I want to go down that path. Has good advise in this branch
7. Noah Eisenhut (Close friend): Works at a golf course and has contact information for that golf course. He could suggest me to his manager.
8. Tye Dollevoet (Brother): Has connections at super store through work. Could suggest me to his manager.
9. Evan Dollevoet (Cousin): High ranking engineer. He works in Vancouver for BC Hydro and knows many managers . Could give me advise in engineering.
10. Lars Hepso (Skating coach): He could help me talk to higher ranking teams. He now works for the NHL.
11. Neil Eisenhut (coach): He is friends with my parents and could suggest me to other coaches.
12. Bill Comrie (Founder of the Brick): He could be a contact for business opportunities in the future.
13. Chris O'Riley (President of BC Hydro): He could be in contact with my cousin. He would be a great business man to be in contact with to get in to BC Hydro.
14. Duncan Dixon (Dad's friend): He is head of RCMP in West kelowna. He could put in in programs to become an officer.
15. Kevin Thomas (Colbys Dad): He is one of the national managers for Super Store and has his main office in West Kelowna. He could hire me.