AUTONOMY AND METACOGNITION
by Caroline Naranjo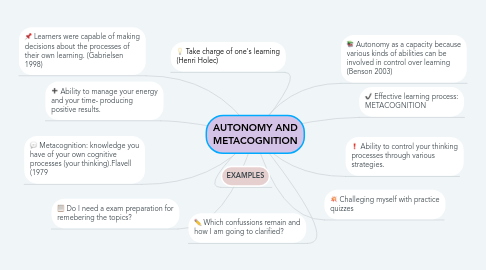 1. Take charge of one's learning (Henri Holec)
2. Effective learning process: METACOGNITION
3. Ability to control your thinking processes through various strategies.
4. EXAMPLES
5. Challeging myself with practice quizzes
6. Which confussions remain and how I am going to clarified?
7. Do I need a exam preparation for remebering the topics?
8. Autonomy as a capacity because various kinds of abilities can be involved in control over learning (Benson 2003)
9. Metacognition: knowledge you have of your own cognitive processes (your thinking).Flavell (1979
10. Ability to manage your energy and your time- producing positive results.
11. Learners were capable of making decisions about the processes of their own learning. (Gabrielsen 1998)