Google Chat and Hangouts
by Cyrel De Guzman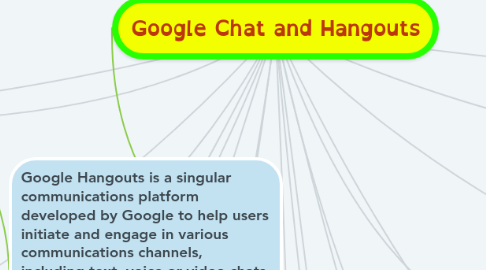 1. The first time you open Google Hangouts Chat at chat.google.com and sign in with your company's G Suite account, you'll instantly see any chat rooms you've been invited to. You can reply to conversations, say something new, or directly message anyone else on the team (if they haven't logged in yet, they'll get an invite email—or if they already use Hangouts video chat, they'll get the direct message there or in Gmail).
2. The first thing you'll notice about Google Hangouts Chat is its focus on conversations. Slack and older chat apps like AOL Instant Messenger and Google Talk focus on messages, the individual things we say in chat. You think of something to say, open a chat room, then type it in a new message. Perhaps the thought is related to something you discussed with your colleagues yesterday—no matter, it still goes in a new message that shows up first since it was posted today, preceded by everything else your group's chatted about over time.
3. Using Google Hangouts Chat Conversations
4. Google Hangouts is a singular communications platform developed by Google to help users initiate and engage in various communications channels, including text, voice or video chats. The platform has proven to be effective in either one-on-one implementation or in a group. Hangouts are integrated into Google+ and Gmail. For added mobility and versatility, mobile apps for iOS and Android devices are also available.
5. Google Hangouts Chat automatically brings conversations with the most recent replies down to the bottom of your chat list. Whenever you open a room, you'll see the conversations with the most recent replies first—so if someone started a new conversation 10 minutes ago and someone else replied to a week-old conversation 5 minutes ago, you'll see them both when you first open a chat room.
6. Google Hangouts Chat is designed for work—so it's no surprise that it's best with Google's other work apps. There's an ever-present Google Drive icon in the New Conversation and Reply boxes. Click it to see the document selection window you've used before in Google Drive and Sheets. You can select recent files or search through your entire Google Drive account to find any file you need.
7. Share Google Docs, Sheets, Slides, and Drive Files
8. Stay Focused with Hangouts Chat Notifications
9. Hangouts Chat tries to calm the storm a bit in a number of ways. First, the bell. Odds are, when you start a new conversation, you'll want to get notified about it. So, Hangouts Chat shows a bell in the top corner of every conversation—and it'll be red by default on every conversation you post. Click the bell to turn off notifications from that conversation (or, click the grey bell on any other conversation to get notified about its replies, if you want). And, if anyone mentions you or sends you a direct message, you'll get notified about that, too.
10. Do More With Hangouts Chat Hidden Features
11. Once you're used to chatting with your team in conversations, sharing Google Docs files to get work done, and taming your notifications, using Hangouts Chats will be second nature. But with a few more minutes to study, you can get a lot more out of it.
12. Format Hangouts Chat Messages
13. If you've ever used Google Talk and Slack, you'll find both experiences combined in some ways in Google Hangouts Chat. First, formatting. You can add italics and other formatting much as in Google Talk and Google Docs comments.
14. Add Bots to Hangouts Chat Rooms
15. In Hangouts Chat, you can add bots to a specific room, or you can chat with them directly on your own. There are a handful of bots already built for Hangouts Chat today, including ones for Giphy, MeisterTask, Wrike, Zenefits, Dialpad, Kayak, and more. To find bots, click the Find Rooms button in the top left corner, then select Message a Bot. That will show a number of popular bots where you can search through them. Select one to message it privately.
16. Manage Hangouts Chat Rooms
17. Hangouts Chat is unique from most team chat apps in that its rooms are private—you have to be invited to them in order to start chatting. That keeps things focused, though it also might mean you need to ask others to add you to rooms when you join a project.
18. Navigate Hangouts Chat With Keyboard Shortcuts
19. Say you're looking at a chat room and haven't clicked anything yet. Press the ↑ arrow on your keyboard to go to previous conversations, or the ↓ arrow to see newer conversations. Find something interesting? Press the → arrow or Enter to select that conversations, then use arrows to go up and down through the conversation.