MOTIVATING AND LEADING
by Amirah Zahidah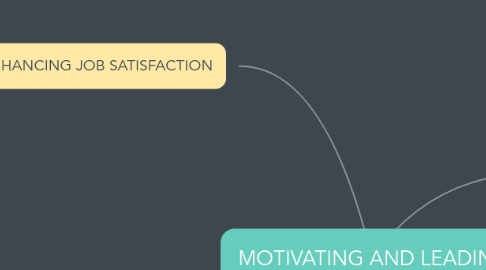 1. DEALING WITH INEQUITY °Employees will attempt to restore equity in an inequitable situation
2. EMPOWERMENT °Power sharing the delegation of power or authority or to subordinates in the organizations.
2.1. ELEMENTS OF EMPOWERMENT °Receive information °Receive knowledge and skills °Have the power to make substantive decisions °Understand the meaning and impact °Rewards based on company performance
3. EXPECTANCY THEORY °Motivation is based on the belief that.
4. EXPECTANCY THEORY MODEL °Individual Effort °Individual Performance °Organizational Rewards °Personal Goals
5. EQUITY THEORY
6. GOAL - SETTING THEORY °Employees perform better when they set specific, quantified, time - framed goals.
7. STRATEGIES FOR ENHANCING JOB SATISFACTION
7.1. °Reinforment and punishment °Management by objectives °Participate management °Team management °Job enrichment °Jod resign °Modified work shecdules °Workshare programs