English Medium Instruction in the Transition Year
by Shahd Quotah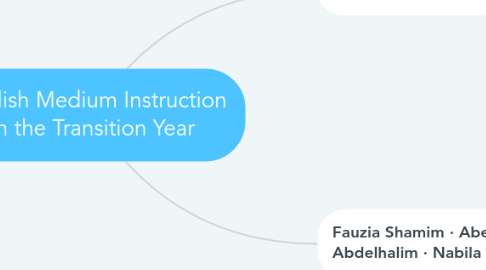 1. Case from KSA,2016
1.1. 19 Students
1.2. 7 teachers
1.3. Qualitative data
1.3.1. classroom observation _ semi-structured _ focus group interviews/teachers &learners documents; textbooks & sample test papers
2. Fauzia Shamim · Abeer Abdelhalim · Nabila Hamid
2.1. Findings: Teachers and the majority of students in this study showed a preference for EMI for instrumental purposes.
2.2. reported a number of challenges . The major challenges seem to stem from students" inadequate proficiency in the language. coping strategies to address these challenges. affects the quality and amount of learning taking place in the PYP. The use of EMI in the PYP can also have negative consequences for learner motivation.
2.3. the gap between rhetoric and reality
2.4. the need for providing research-based support to facilitate a shift in MoI from Arabic in high school to English in higher education settings.