Skype and Viber
by Avelino Veabsangel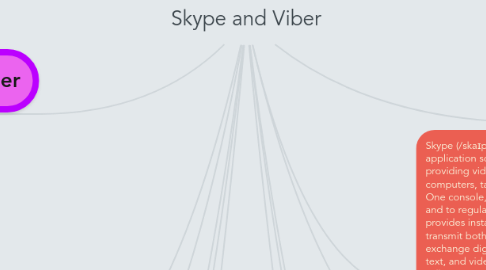 1. Skype (/skaɪp/) is a telecommunications application software product that specializes in providing video chat and voice calls between computers, tablets, mobile devices, the Xbox One console, and smartwatches via the Internet and to regular telephones.Skype additionally provides instant messaging services. Users may transmit both text and video messages, and may exchange digital documents such as images, text, and video. Skype allows video conference calls.
2. Skype Benefits
3. Skype
4. Viber
5. Viber is a cross-platform voice over IP (VoIP) and instant messaging (IM) software application operated by Japanese multinational company Rakuten, provided as freeware for the Android, iOS, Microsoft Windows, macOS and Linux platforms. Users are registered and identified through a cellular telephone number, although the service is accessible on desktop platforms without needing mobile connectivity. In addition to instant messaging it allows users to exchange media such as images and videorecords, and also provides a paid international landline and mobile calling service called Viber Out. As of 2018, there are over a billion registered users on the network
6. Viber Features
7. Instant messaging HD video calls International calls Group Chat Instant Voice message News Feeds Stickers Public Chat Follow Chat Service Messages Viber Games Syncs automatically with other devices
8. Skype Features
9. Skype to Skype calls Calls to mobiles and landlines Group calls Skype Number Forward calls Caller ID One-to-one video calls Group video calls Video messaging Instant messaging Send texts (SMS) Voice messages Send files Screen sharing Group screen sharing Send contacts
10. The main reason why Skype is world's most popular online communication service providers is its extremely flexible pricing. Skype is very popular for its free video chat and communications capabilities, which are very basic at best. As a business communications tool, Skype is branded as the best and most inexpensive solutions provider for VoIP services.
11. Viber Benefits
12. Viber is a a very useful app especially for businesses and individuals who require a functional messaging system without the burdening cost. Viber lets members call and message each other for free via Wi-Fi or 3G connectivity. The app also offers charged international calls to unregistered landline and mobile numbers for insanely low rates. The messaging app is also an inexpensive way to share images, files, and audio. On top of all that, Viber runs on virtually every known messaging device – desktop, laptops and smartphones, giving users flexibility as well as functionality to take their business to the next level.