SUBJECT : Reinforce cycling experience for seniors using sound design
by Flavien Cotreau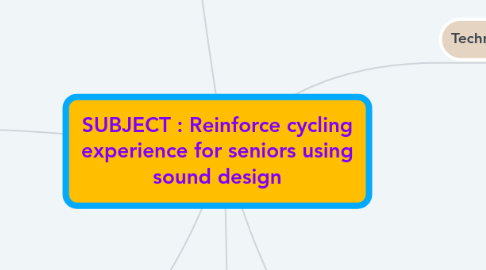 1. Technologies
1.1. Earpiece
1.1.1. Article : Earpiece - How does it work ?
1.1.2. Earpiece easy to use for seniors
1.1.2.1. Earpiece connected to smartphone that enables the biker to listen to music, to follow the directions of the GPS, to be warned in case of danger. It is simple to use and it's light so that it doesn't bother the senior who's wearing it if they use it for a long time.
1.2. Headphones
1.2.1. Beeping device added that pedestrians and cars can hear when the biker is near
1.2.1.1. Video : Give a beep — an initiative to help improving London cycling safety
1.3. Button placed on the bike and connected to smartphone
1.3.1. For cycling information
1.3.2. For health information
1.3.3. For localisation information
2. Safety
2.1. Warning sound when too close to something
2.1.1. Article : Audible warning device
2.2. Weather information to take measures when slippery ground for example
2.3. Bike status
2.3.1. Audio warning when something in the bike is damaged or need to be changed or greased
3. Localisation
3.1. Audio GPS
3.1.1. Voice map : while biking, the senior will be guided thanks to his earpiece. This way, he can focus on his riding experience and enjoy the landscape instead of having to look at his GPS every minute (which can also be dangerous).
3.1.1.1. Less dangerous, more efficient
3.1.1.2. Concentration increased
3.2. Audio guide
3.2.1. Article : What is an audio guide
3.2.2. The senior can go anywhere and just by activating his localisation on his smartphone he can visit the place of his choice and listen to the history of the city he's visiting.
4. Entertainment
4.1. Playing music
4.2. Audio games
4.2.1. Blindtests : guess that song
4.2.2. Cultural games
4.2.2.1. Guess the area, the monument
4.3. Collective biking
4.3.1. Audio device to communicate with the people you're riding with
5. Health & Effort made
5.1. Health information
5.1.1. Heartbeat
5.1.2. Blood sugar level
5.1.3. Blood pressure
5.2. Cycling information
5.2.1. Distance covered
5.2.2. Speed change
5.2.3. Time spent biking
6. Timeline
6.1. In the morning : good visibility
6.1.1. Audio device for entertainment or anything else
6.2. In the afternoon : Visibility reduced by the sun
6.2.1. Audio device to warn against danger and insolation
6.3. At night : weak visibility
6.3.1. Audio device to warn bikers against any danger