Low-Incidence Disabilities LID Students with LIDs need special education, which is provided for them for free under the IDEA. These students will get proper modifications according to their individual education plans or 504 plans. This may include extra time for test, mark in test book, read aloud test, as well as a variety of others.
by Michael Sorrentino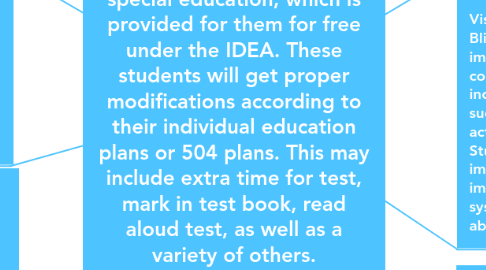 1. Traumatic Brain Injury (TBI):
2. Hearing Impairments
3. Visual Impairments including Blindness : A visual impairment is any visual condition that impacts an individual's ability to successfully complete the activities of everyday life. Students with visual impairments who experience impairments of the visual system that impact their ability to learn.
4. Children with traumatic brain injury, they face a lifetime of disability. Traumatic brain injuries (TBI) result in permanent neurobiological damage that can produce lifelong deficits to varying degrees. Traumatic brain injury (TBI) primarily refers to the brain dysfunction caused by external trauma. There are many forms of traumatic injuries occurring around the globe.
5. Hearing impairment, or hearing loss, occurs when children lose part or all of their ability to hear. Hearing impairments are classified based on the severity and type of hearing impairment. The severity of hearing impairment can be mild, moderate, severe, or profound.
6. Accommodations and modifications for student with traumatic brain injury
7. Some accommodations and modifications to improve concentration for student with traumatic brain injury include: • Have student sit near teacher in the classroom. • Keep distractions to a minimum. • Use peer note-takers. • Allow student to use a tape recorder. • Provide assignments in writing. • Teach in small groups. • Schedule classes when student's attention is best. • Focus student's attention with verbal and nonverbal cues. • Allow student to have frequent breaks.
8. Visual impairment and Impact on Learning Students with visual impairment have a limited ability to learn incidentally from their environment. It is through sight that much of what we learn is received and processed. It is believed that up to 80% of what children without visual impairments learn is through visual cues. The other senses do not fully compensate for the loss of sight. Touch and hearing can be ineffective substitutes for many individuals.
9. Accommodations and modifications for visually impaired students Teaching Students with Visual Impairments braille large print audiotape electronic text oral testing/scribin
10. Accommodations and modifications for hearing impaired students • Sign Language Interpreting. • Communication Access Realtime Translation (CART) • C-Print - Transcription Services. • Assistive Listening Devices (ALD) • Note taking. • Captioning. • Preferred seating.
11. References Savage, R. (July 2001). An analysis of 15, 024 children with traumatic brain injury. Presentation at the 20th Annual Symposium "Building Blocks of Change", Brain Injury Association of Elliott, J. L., & Thurlow, M. L. (2006). Improving test performance of students with disabilities...On district and state assessments (2nd ed.). Thousand Oaks, CA: Corwin. Hallihan & Kaufman, 2002). Exceptional Learners: Introduction to Special Education with Casebook, 9th Edition. University of Virginia. New York, NY: Pearson
12. Comparison between the 3 disabilities visual impairment, hearing impairment, and traumatic brain injury A hearing impairment is a hearing loss that prevents a person from totally receiving sounds through the ear. Visual impairment, also known as vision impairment or vision loss, is a decreased ability to see to a degree that causes problems not fixable by usual means, such as glasses. a tbi is a disruption in brain function, caused by an external force to the head