Calvin Cordozar Broadus (Snoop Dogg)
by Emilija Dzidzeviciute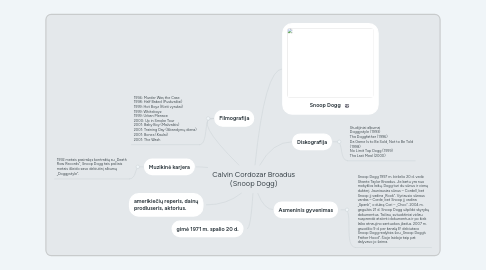 1. amerikiečių reperis, dainų prodiuseris, aktorius.
2. gimė 1971 m. spalio 20 d.
3. Muzikinė karjera
3.1. 1992 metais pasirašęs kontraktą su "Death Row Records", Snoop Dogg tais pačiais metais išleido savo debiutinį albumą "Doggystyle".
4. Filmografija
4.1. 1994: Murder Was the Case 1998: Half Baked (Puskvailiai) 1999: Hot Boyz (Kieti vyrukai) 1999: Whiteboyz 1999: Urban Menace 2000: Up in Smoke Tour 2001: Baby Boy (Mažvaikis) 2001: Training Day (Išbandymų diena) 2001: Bones (Kaulai) 2001: The Wash
5. Snoop Dogg
6. Diskografija
6.1. Studijiniai albumai Doggystyle (1993) Tha Doggfather (1996) Da Game Is to Be Sold, Not to Be Told (1998) No Limit Top Dogg (1999) Tha Last Meal (2000)
7. Asmeninis gyvenimas
7.1. Snoop Dogg 1997 m. birželio 20 d. vedė Shante Taylor Broadus. Jie kartu yra nuo mokyklos laikų. Dogg turi du sūnus ir vieną dukterį. Jauniausias sūnus – Cordell, bet Snoop jį vadina "Rook". Vyriausio sūnaus vardas – Corde, bet Snoop jį vadina "Spank", o dukrą Cori – "Choc". 2004 m. gegužės 21 d. Snoop Dogg užpildė skyrybų dokumentus. Tačiau, sutuoktiniai vėliau nusprendė atsiimti dokumentus ir po kiek laiko atnaujino santuokos įžadus. 2007 m. gruodžio 9 d. per kanalą E! debiutavo Snoop Dogg realybės šou "Snoop Dogg's Father Hood". Šioje laidoje taip pat dalyvavo jo šeima.