Developing a student tech team - Your In-House Helpers!
by Barbara Vinal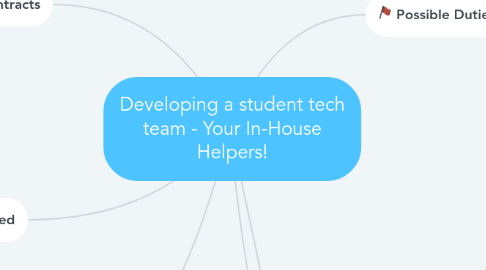 1. Possible Duties
1.1. Cleaning around classroom technology
1.2. Troubleshooting simple issues
1.3. Completing an in-house Help Desk ticket
1.3.1. (See Student Help Desk Form)
1.4. Inventory
1.5. Modelling Technology Safety
1.6. Assisting teachers with connection issues
1.6.1. Smartboard or Flat Panel
1.6.2. Document cameras
1.6.3. Projectors
1.7. Device roll out assistance
1.8. Labelling of devices
1.9. Matching power cords to correct device
1.9.1. Suggestion: Label all cords with device and room number
1.10. Oversee News Show technical side
1.10.1. Physically connecting devices
1.10.2. Filming
1.10.3. Final production
1.11. Device plug in at end of day
1.12. Assisting with End of Life Devices (ERD Process)
1.12.1. Identifying devices in need of recycling
1.12.2. Physically moving end of life devices to central location
1.13. Unboxing new equipment
1.13.1. Putting together power cords which typically come in two separate pieces
1.13.2. Breaking down boxes for recycling
1.13.3. Determining what materials go to the makerspace (if you have one)
2. FORMS and Contracts
2.1. Intent Letter
2.1.1. Signed by Student
2.1.2. Signed by Parent
2.2. Contract (Google Doc)
2.3. Form to find student availability
2.4. Form for Room Assignment preference
2.5. Student Help Desk Form
3. What age?
3.1. Beginning in 3rd Grade although have also used 2nd graders
3.1.1. Older students mentor younger students
3.1.2. More responsible team members train others as Grade Level captains
4. Physical Tools Needed
4.1. Dusters
4.2. Rolling carts
4.3. Inventory lists (accurate if possible!)
4.4. Official badges that act as a hall pass
4.5. List of Team members provided to all staff
5. Meetings
5.1. Sample Agenda
5.2. Typically met once a week in the morning before school for 20 minutes.
5.3. Choose time that is least disruptive to learning
5.4. Attempt to include ALL student populations and be mindful of those that ride busses.
6. Communication with Team
6.1. Use a Google Team Drive
6.2. Use a Google Classroom
6.3. Email