Advertise Heart Transformation Sell $300/TODAY products
by Bobby Torres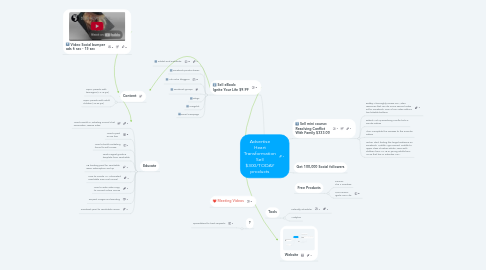 1. Video Social bumper ads 6 sec - 15 sec
2. Content
2.1. Topic: parents with teenagers (13-18 yrs)
2.2. Topic: parents with adult children (18-26 yrs)
3. Get 100,000 Social followers
4. Free Products
4.1. Course: The 4 Priorities
4.2. Mini-course: Ignite Your Life
5. Educate
5.1. How to Build a Marketing Funnel That Generates Massive Sales
5.2. How to post on FB free
5.3. How to build marketing funnel to sell course
5.4. Lead magnet guide & template from Teachable
5.5. FB tracking pixel for Teachable Basic subscription and up
5.6. How to Create An Automated Teachable Free Trial Funnel
5.7. How to write sales copy to convert online course
5.8. FB post images and wording
5.9. Facebook pixel to Teachable course
6. Sell mini course: Resolving Conflict With Family $333.00
6.1. Bobby: Thoroughly review our Video resources that can do 40-60 second video ad for Facebook. One of our video editors has linkable buttons.
6.2. Robert: cut up Resolving Conflict into 2 minute videos
6.3. Alex: Complete the Quizzes to the 2minute videos
6.4. Jackie: Start finding the target audience on Facebook. Middle Age married middle to upper class Christian white Moms with children from 13-18 or young adults from 18-26 that live in Suburbia USA.
7. Sell eBook: Ignite Your Life $9.99
7.1. Publish and Distribute
7.2. Facebook private shares
7.3. Ask niche bloggers
7.4. Facebook groups
7.5. Blogs
7.6. Craigslist
7.7. Email Campaign
8. Tools
8.1. Calendly scheduler
8.2. Analytics
9. Website
10. ?
10.1. Spreadsheet to track requests
11. Meeting Videos