CLEFT LIP AND PALATE
by Andrea Mapa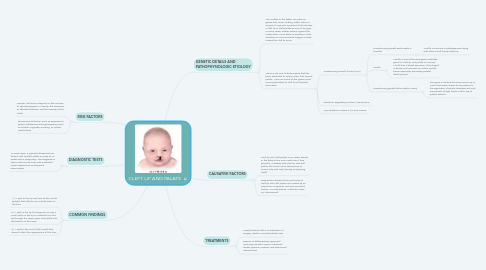 1. GENETIC DETAILS AND PATHOPHYSIOLOGIC ETIOLOGY
1.1. The mother or the father can pass on genes that cause clefting, either alone or as part of a genetic syndrome that includes a cleft lip or cleft palate as one of its signs. In some cases, babies inherit a gene that makes them more likely to develop a cleft, and then an environmental trigger actually causes the cleft to occur.
1.2. There is not one definitive gene that has been identified to solely cause cleft lip and palate. Here are some of the genes most commonly linked to cleft lip and palate anomalies
1.2.1. Transforming Growth Factor (TGF)
1.2.1.1. Transforming Growth Factor Beta 2 (TGFß2)
1.2.1.1.1. TGFß2 is involved in palatogenesis along with other TGFß family isoforms.
1.2.1.2. TGFß3
1.2.1.2.1. TGFß3 is one of the strongest candidate gene for cleft lip and palate in humans. TGFß3 has a broad spectrum of biological activities and is known to induce palatal fusion especially secondary palatal development
1.2.1.3. Transforming growth factor-alpha (TGFa)
1.2.1.3.1. The gene is located at chromosome 2p13. TGFa have been shown to be present in the regulation of palate development and are present at high levels in the MEE of palatal shelves
1.2.2. Interferon Regulatory Factor 6 (IRF6) Gene
1.2.3. Axis Inhibition Protein 2 (AXIN2) Gene5
2. CAUSATIVE FACTORS
2.1. Cleft lip and cleft palate occur when tissues in the baby's face and mouth don't fuse properly. In babies with cleft lip and cleft palate, the fusion never takes place or occurs only part way, leaving an opening (cleft).
2.1.1. Researchers believe that most cases of cleft lip and cleft palate are caused by an interaction of genetic and environmental factors. In many babies, a definite cause isn't discovered.
3. RISK FACTORS
3.1. Genetic risk factors depend on the number of affected people in a family, the closeness of affected relatives, and the severity of the clefts.
3.2. Environmental factors such as exposure to certain substances during pregnancy such as alcohol, cigarette smoking, or certain medications
4. DIAGNOSTIC TESTS
4.1. In most cases, a prenatal ultrasound can detect cleft lip/cleft palate as early as 16 weeks into a pregnancy. The diagnosis is then confirmed at birth with a detailed visual assessment and physical examination.
5. COMMON FINDINGS
5.1. 1.) A split in the lip and roof of the mouth (palate) that affects one or both sides of the face
5.2. 2.) A split in the lip that appears as only a small notch in the lip or extends from the lip through the upper gum and palate into the bottom of the nose
5.3. 3.) A split in the roof of the mouth that doesn't affect the appearance of the face
6. TREATMENTS
6.1. Usually treated with a combination of surgery, dental, and orthodontic care
6.2. Require multidisciplinary approach involving cosmetic repair, nutritional, dental, speech, medical, and behavioral interventions