#FromYoungPeopleForYoungPeople
by Rachael Vaughan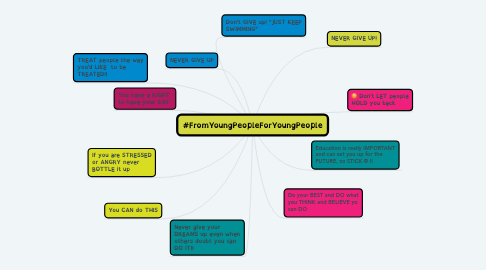 1. Never give your DREAMS up even when others doubt you can DO IT!!
2. TREAT people the way you'd LIKE to be TREATED!!
3. If you are STRESSED or ANGRY never BOTTLE it up
4. Don't LET people HOLD you back
5. You have a RIGHT to have your SAY
6. NEVER GIVE UP!
7. Education is really IMPORTANT and can set you up for the FUTURE, so STICK @ I!
8. Don't GIVE up! "JUST KEEP SWIMMING"
9. NEVER GIVE UP
10. You CAN do THIS
11. Do your BEST and DO what you THINK and BELIEVE yo can DO