levels of organization of living things.
by Alex Welch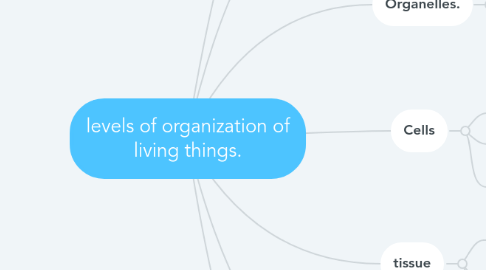 1. atoms
1.1. smallest things that take up space
1.2. makes up everything in the universe.
1.3. atoms bond together to form molecules
2. Molecules.
2.1. Molecules bond together to form macromolecules.
2.2. Everything around you is made up of different kinds of molecules
2.3. We are all made up of trillions upon trillions of different kinds of molecules
3. Organelles.
3.1. Tiny organ like structures
3.2. Inside of a cell.
3.3. Cannot live outside of cells.
4. Cells
4.1. Smallest units that have characteristics of life.
4.2. The body has 100 trillion cells.
4.3. Cells are the basic building blocks of living things.
5. tissue
5.1. Similar cells.
5.2. Four major tissues. Muscle, connective, matrix, epithelial.
5.3. Have to perform the same job.
6. Organ
6.1. Made up of Different type of tissues.
6.2. Humans have five vital organs that are essential for survival.
6.3. These are the brain, heart, kidneys, liver and lungs.
7. organ system
7.1. Cardiovascular
7.2. Respiratory
7.3. 11 major system in the body.