THIS IS AN AD
by Laura De Nadai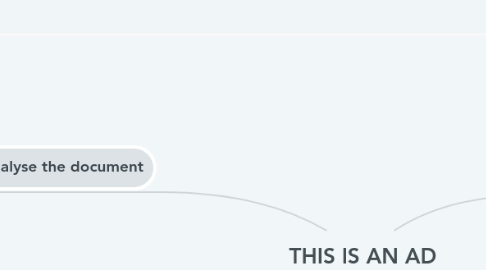 1. Identify the document
1.1. It was designed by/for...
1.2. It was published in...
1.3. It is recent, It dates from...
1.4. There is a caption (légende), a logo, a slogan, a brandname (marque)...
1.5. It comes from…/ It's an extract from...
1.6. The aim of this ad is to promote a product (or big issue) which is ….
2. Describe the document
2.1. Where?= The scene takes place in...
2.2. What? Who? What colours are used? I can see…/ There is/are...
2.3. At the bottom/ At the top/ In the middle/ In the right/left- hand corner...
2.4. Expression, clothes, colours, shape (formes)= square, circular, big...
3. Analyse the document
3.1. The picture expresses… happiness, loneliness (solitude), fear (peur), sadness, anger (colère), excitement, pleasure, the danger of…, the beauty of...
3.2. The target audience (le public visé) of the advert is teenagers, young adults, kids, parents, housewives, retired people...
4. Give your opinion
4.1. As far as I'm concerned, I'm keen on/ I dislike/ I can't stand…. because …..