What is professional development?
by Ada Qin Ye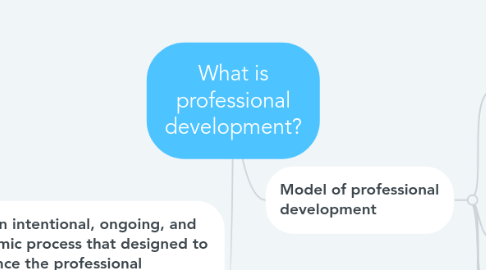 1. It is an intentional, ongoing, and systemic process that designed to enhance the professional knowledge, skills, and attitudes of educators so they might improve the learning of students.
1.1. Intentional
1.1.1. 1. Clear statement of purpose and goals; 2. Worthwhile goals; 3. Assessment.
1.2. Ongoing
1.2.1. Educators as continuous learners
1.3. Systemic
1.3.1. Individual learning and organizational change that support each other
2. Model of professional development
2.1. 1. Training
2.1.1. Large group , most efficient and cost-effective
2.1.2. few choices and individualization
2.2. 2. Observation/assessment
2.2.1. Analysis and reflection
2.3. 3. Involvement in a development/improvement process
2.3.1. Involvement in a development process
2.4. 4. Study groups
2.4.1. Entire staff involvement
2.5. 5. Inquiry/ action research
2.5.1. problem-solving
2.6. 6. Individual guided activities
2.6.1. Self-paced learning
2.7. 7. Mentoring
2.7.1. Pairing