Nina and Lily's TOK Essay: The production of knowledge is always a collaborative task and never solely a product of the individual.
by yin nina huang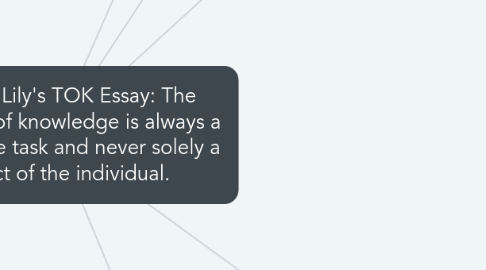 1. Keywords (with the help of the dictionary)
1.1. Knowledge
1.1.1. facts and information acquired through experience or education (eg: gaining knowledge, knowledge transmission)
1.2. Collaborative
1.2.1. produced by multiple people who work together (eg: collaborative research)
1.2.1.1. (not cooperative- can't tell which individual performed research/worked on which part)
2. Key Phrases (Rephrase)
2.1. Production of knowledge
2.1.1. Using time, resources and research to further an idea thus creating new information
2.1.1.1. Developing a new theory/inquiry about a specific AOK through personal WOKs and other AOKs to help.
2.1.2. Different to knowledge acquisition in which knowledge is extracted from a source
2.2. Product of an individual
2.2.1. One person comes up with an idea, performs research, validate and fix the research process and produces knowledge all by him/herself.
3. Rewrite
3.1. Knowledge can only be made by multiple researchers, not one person.
4. Rewrite
4.1. The creation of projects (i.e. artwork, scientific breakthrough) to be considered as knowledge can only be formed by a group of people due to the collaborative research process behind it that one person may not be able to fulfil.
5. Connections to Classes
5.1. Art (Sculpting)
5.1.1. The Arts
5.1.2. Jeff Koons' Balloon Dog
5.1.2.1. The creation of the balloon dog has been determined as unoriginal by some critics. That is because Koons' merely played with the objects/symbols of every day lives (balloon) which he didn't create.
5.1.2.1.1. WOKs: Memory, sense perception, imagination, faith
5.1.2.1.2. TOK Framework: Methodology
5.2. Biology
5.2.1. Natural Sciences
5.2.2. The production of knowledge on DNA by Watson and Crick.
5.2.2.1. Connection
5.2.2.1.1. WOK: Reason
5.2.2.1.2. TOK Framework: Scope and applications