TOK Essay (Jerry) "The production of knowledge is always a collaborative task and never solely a product of the individual." Discuss this statement with reference to two areas of knowledge.
by Jiarui WANG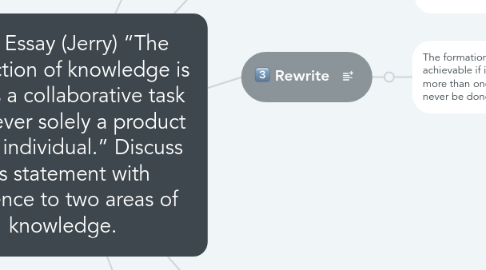 1. Keywords
1.1. Knowledge
1.1.1. Facts, information, and skills acquired through experience or education; the theoretical or practical understanding of a subject
1.2. Always
1.2.1. At all times; on all occasions
1.3. Collaboration
1.3.1. The action of working with someone to produce something
1.4. Individual
1.4.1. Single; separate
2. Key Phrases
2.1. Production of knowledge
2.1.1. Someone must think of an idea and decide to pursue it further
2.1.2. The idea will require time to research and develop fully
2.2. Collaborative task
2.2.1. When multiple people are working together to achieve the same goal
3. Rewrite
3.1. The formation of new ideas is only achievable if it's carried out by more than one person, and can never be done alone.
4. Rewrite
4.1. The formation of new knowledge can only be done when multiple people work together towards the same goal, never alone.
5. Connections to Classes
5.1. Physics
5.1.1. Natural sciences
5.1.2. Newton's three laws of motion
5.1.2.1. Connection
5.1.2.1.1. Sense perception, imagination, intuition & reason
5.1.2.1.2. Methodology
5.2. Visual arts
5.2.1. The arts
5.2.2. Artists usually create artworks themselves
5.2.2.1. Connection
5.2.2.1.1. Imagination, memory & emotion
5.2.2.1.2. Methodology