Nathanael - "Disinterestedness is essential in the pursuit of knowledge."
by Nathanael KUSANDA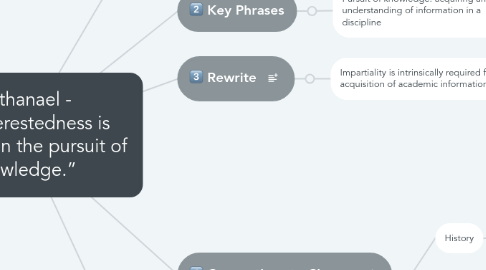 1. Keywords
1.1. Disinterestedness
1.1.1. Not influenced by personal partiality
1.1.2. Having no interest or feeling towards something
1.1.2.1. This definition is similar to that of 'uninterestedness', and is less appropriate in the wider context of the question
1.2. Essential
1.2.1. Absolutely, intrinsically necessary
1.3. Knowledge
1.3.1. Facts, informations, skills acquired in experience and education
2. Key Phrases
2.1. Pursuit of knowledge: acquiring and understanding of information in a discipline
3. Rewrite
3.1. Impartiality is intrinsically required for the acquisition of academic information
4. Rewrite
4.1. A historian's impartiality is intrinsically necessary in the study of historical records
5. Connections to Classes
5.1. History
5.1.1. RLE: Martin Luther King Jr. was spurred by personal desire for justice and equality in learning of Gandhian non-violent philosophy
5.1.1.1. Martin Luther King Jr's research into Gandhi's "satayagraha" (soul force) methods were motivated by his own role as the leader of the Civil Rights Movement.
5.1.1.1.1. WOK: emotion (partiality), reason
5.1.1.1.2. Framework Area: methodology
5.1.1.2. King's readings of Gandhi's writings, as well as a trip to India in 1959, were not impartial studies into his philosophy. Rather, his own responsibility to the Civil Rights Movement was the driving force for this acquisition of knowledge.
5.1.1.2.1. WOK
5.1.1.2.2. Framework Area
5.1.2. AOK: History
5.2. Subject 2
5.2.1. AOK
5.2.2. RLE/PK Connections
5.2.2.1. Connection
5.2.2.1.1. WOK
5.2.2.1.2. Framework Area
5.2.2.2. Connection
5.2.2.2.1. WOK
5.2.2.2.2. Framework Area
5.3. Subject 3
5.3.1. AOK
5.3.2. RLE/PK Connections
5.3.2.1. Connection
5.3.2.1.1. WOK
5.3.2.1.2. Framework Area
5.3.2.2. Connection
5.3.2.2.1. WOK
5.3.2.2.2. Framework Area