TOK Essay Mouhamadou and Hubert "The production of knowledge is always a collaborative task and never solely a product of the individual."
by Mouhamadou Moustapha DIADIOU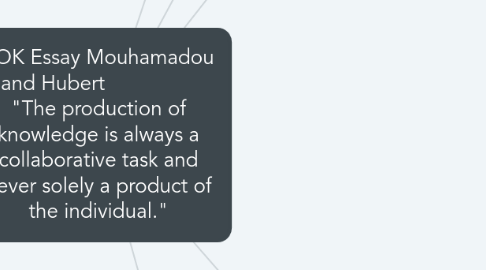 1. Keywords
1.1. Knowledge
1.1.1. facts, information, and skills acquired through experience or education; the theoretical or practical understanding of a subject.
1.2. Production
1.2.1. the action of creating or making from components or raw materials, or the process of being so manufactured.
1.3. Collaborative
1.3.1. produced by or involving two or more parties working together.
1.4. Product
1.4.1. a thing or person that is the result of an action or process.
2. Key Phrases
2.1. Production of knowledge
2.1.1. Creating a new theory/ idea from an idea and deciding to pursue it further
2.2. Always a collaborative task
2.2.1. In order to get a result, it is always necessary to work with other people and never alone.
3. Rewrite
3.1. Most of the theories/ideas are created by more than one person.
4. Rewrite
5. Connections to Classes
5.1. Literature
5.1.1. The Arts
5.1.2. How do writers create a book ?
5.1.2.1. Connection
5.1.2.1.1. Imagination, emotion, sense-perception
5.1.2.1.2. Methodology
5.1.2.2. Connection
5.1.2.2.1. WOK
5.1.2.2.2. Framework Area
5.2. Biology
5.2.1. Natural sciences
5.2.2. How do vaccines have been created by Louis Pasteur ?
5.2.2.1. Connection
5.2.2.1.1. Imagination, sense-perception, reason
5.2.2.1.2. Methodology
5.2.2.2. Connection
5.2.2.2.1. WOK
5.2.2.2.2. Framework Area
5.3. Subject 3
5.3.1. AOK
5.3.2. RLE/PK Connections
5.3.2.1. Connection
5.3.2.1.1. WOK
5.3.2.1.2. Framework Area
5.3.2.2. Connection
5.3.2.2.1. WOK
5.3.2.2.2. Framework Area