Ollie TOK "The quality of knowledge is best measured by how many people accept it."
by Ollie Ellard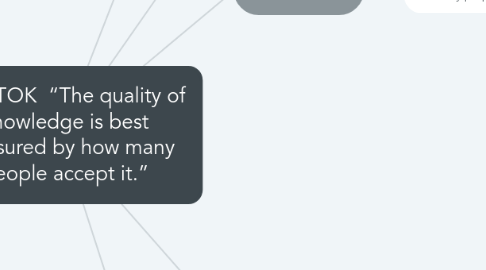 1. Keywords
1.1. Quality
1.1.1. The standard of something as measured against other things of a similar kind; the degree of excellence of something.
1.1.2. Dictionary
1.2. Accept
1.2.1. Believe or come to recognise (a proposition) as valid or correct.
1.3. Knowledge
1.3.1. Facts, information, and skills acquired through experience or education; the theoretical or practical understanding of a subject
2. Key Phrases
2.1. Quality of knowledge
2.1.1. Value of expertise
2.2. people accept it
2.2.1. people recognise it as true
2.3. best measured
2.3.1. best evaluated
3. Rewrite
3.1. The value of expertise is best evaluated by how many people recognise it as true.
4. Rewrite
5. Connections to Classes
5.1. Theatre
5.1.1. The Arts
5.1.2. There are certain practises that result in a better production.
5.1.2.1. Theatre Theories: Dramatic theory is a term used for works that attempt to form theories about theatre and drama.
5.1.2.1.1. Sense perception/Emotion
5.1.2.1.2. Historical Development
5.1.2.2. Connection
5.1.2.2.1. WOK
5.1.2.2.2. Framework Area
5.2. Subject 2
5.2.1. AOK
5.2.2. RLE/PK Connections
5.2.2.1. Connection
5.2.2.1.1. WOK
5.2.2.1.2. Framework Area
5.2.2.2. Connection
5.2.2.2.1. WOK
5.2.2.2.2. Framework Area
5.3. Subject 3
5.3.1. AOK
5.3.2. RLE/PK Connections
5.3.2.1. Connection
5.3.2.1.1. WOK
5.3.2.1.2. Framework Area
5.3.2.2. Connection
5.3.2.2.1. WOK
5.3.2.2.2. Framework Area