TOK Essay (Ashley) "Do good explanations have to be true?"
by Jiwon NAM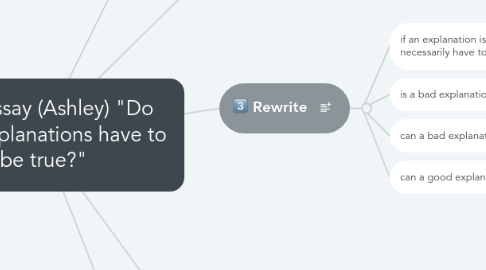 1. Keywords
1.1. Explanation
1.1.1. sharing of knowledge that is understandable by a wider community
1.1.1.1. making things easier to understand
1.2. Truth
1.2.1. correspondent truth
1.2.1.1. makes sense through the analysis of sense perception
1.2.2. pragmatic truth
1.2.2.1. truth that is useful to people
1.2.3. consensus truth
1.2.3.1. the majority of people agree with the truth
1.2.4. coherent truth
1.2.4.1. information that makes sense
2. Key Phrases
2.1. good explanation
2.1.1. an explanation that achieves the explainer's intentions
2.1.2. different for every person
3. Rewrite
3.1. if an explanation is good, does it necessarily have to be true?
3.2. is a bad explanation false?
3.3. can a bad explanation be true?
3.4. can a good explanation be false?
4. Rewrite
5. Connections to Classes
5.1. Subject 1: Physics
5.1.1. AOK: Natural Sciences
5.1.2. RLE/PK Connections: The value of the gravitational potential energy (acceleration of gravity) for different grades / levels
5.1.2.1. Knowledge is simplified in different grades for better understanding (i.e. in middle school, we are taught that the acceleration of gravity is 10 m/s, but in IB it is 9.81 m/s; the actual value is a lot more complex)
5.1.2.1.1. WOK: Language
5.1.2.1.2. Framework Area: Language and concepts
5.1.2.2. Connection
5.1.2.2.1. WOK
5.1.2.2.2. Framework Area
5.2. Subject 2
5.2.1. AOK
5.2.2. RLE/PK Connections
5.2.2.1. Connection
5.2.2.1.1. WOK
5.2.2.1.2. Framework Area
5.2.2.2. Connection
5.2.2.2.1. WOK
5.2.2.2.2. Framework Area
5.3. Subject 3
5.3.1. AOK
5.3.2. RLE/PK Connections
5.3.2.1. Connection
5.3.2.1.1. WOK
5.3.2.1.2. Framework Area
5.3.2.2. Connection
5.3.2.2.1. WOK
5.3.2.2.2. Framework Area