MANAGING THE COMPLEXITY PARADIGM
by Johan Liseth Meneses Montenegro - Estudiante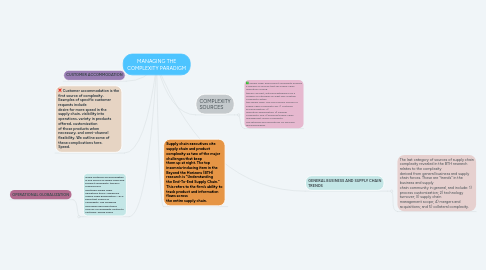 1. GENERAL BUSINESS AND SUPPLY CHAIN TRENDS
1.1. The last category of sources of supply chain complexity revealed in the BTH research relates to the complexity derived from general business and supply chain forces. These are "trends" in the business and supply chain community in general, and include: 1) process customization; 2) technology turnover; 3) supply chain management scope; 4) mergers and acquisitions; and 5) collateral complexity.
2. COMPLEXITY SOURCES
2.1. Supply chain and product complexity possess a number of sources that vex supply chain operations. During the BTH project, data was gathered from a number of interviews on what was creating complexity within the supply chain. The four primary sources of supply chain complexity are: 1) customer accommodation; 2) operations globalization; 3) supplier complexity; and 4) business/supply chain management-driven complexity. The rationale and implications for each are discussed below.
3. Supply chain executives cite supply chain and product complexity as two of the major challenges that keep them up at night. The top insomnia-inducing item in the Beyond the Horizons (BTH) research is "Understanding the End-To-End Supply Chain." This refers to the firm's ability to track product and information flows across the entire supply chain.
4. CUSTOMER ACCOMMODATION
5. Customer accommodation is the first source of complexity. Examples of specific customer requests include desire for more speed in the supply chain, visibility into operations, variety in products offered, customization of those products when necessary, and omni-channel flexibility. We outline some of these complications here. Speed.
6. While customer accommodation is one source of supply chain and product complexity, the BTH research also identified supply chain operations itself—especially supply chain globalization—as a persistent source of complexity. The following discussion describes those sources of complexity related to customer-facing issues
6.1. OPERATIONAL GLOBALIZATION