CAROLINA ANIMAL ALLIANCE: Mission Statement: Our Mission is to speed up the adoption rate of animals as well as providing free neutering and spaying services, reduced vet costs, and reduced pet supplies or those who may have fallen on hard times. We strive to afford every animal under our care the love and comforts they deserve.
by Dylan Thurman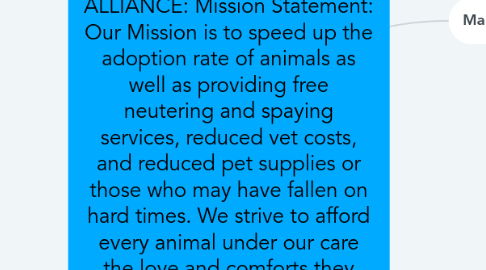 1. Marketing Stratigy
1.1. Target market
1.1.1. Our target market is lower income pet owners. We believe that no matter you economic standing you should be able to have the joy of owning a pet.
1.2. Marketing mix
1.2.1. Place
1.2.1.1. Our name is "Carolina Animal Alliance" so we are focusing on North and South Carolina
1.2.2. Price
1.2.2.1. The main idea of ours is to offer spaying and neutering free of charge. For this to be possible, we need to have a network of vets willing to work pro bono, or for reduced rates (paid for with donation money). We also would sell pet supplies (food, beds, etc.) and provide medical care for pets who's owners have fallen on a financial hardship. To qualify for that they would need to somehow prove their circumstance. To mitigate prices of supplies for these folks, we would try and partner with large pet food brands. The hope would be that they make a deal to sell us food below market price and ideally at cost. We could then sell the food to those in need at cost as well. The rest would be funded by donations.
1.2.3. Product
1.2.3.1. Our product would be the services we provide, and the fact we do them at a cheaper rate
1.2.4. Promotion
1.2.4.1. We will have events for people to meet the animals under our care. We want people to be able to see the good we are doing in the community first hand. Social media will be a key component in this
2. Company Objectives
2.1. Production
2.2. Finance
2.2.1. We want to solicit as many donations as possible. People who need to be paid include a director, a number of staff at each location, suppliers of the pet products, and vets who cannot work pro bono. We want to seek as many corporate sponsorships (preferably within the pet care industry) as well as community partnerships with local volunteer groups, schools, churches, etc. These groups will lead to the donations as well as volunteers.
2.3. HR
2.3.1. We want to staffed, as much as possible, with volunteers. We do need a number of full time employees, to direct volunteers and fill in the gaps when we are short on volunteers. We also need veterinarians who are willing to work pro bono or at a reduced rate
2.4. R & D
2.4.1. To find areas with the highest demand and attempting to find more efficient and cheaper tactics for neutering and spaying
2.5. IT
2.5.1. Creating a platform to vertically integrate the company so from the adoption clinics to the board we have real time information of costs and productivity.
3. Competition
3.1. There are a few established big names out there. Our goal is to set our self up as a "partner" in sort to the humane society. They are not able to do these programs because of costs and other factors. We believe that being an alternative for the people they cannot help rather than a competitor to the ones that they can, will be a win for both in the market.
4. Positioning and Segmentation
4.1. Once established we will be recognized as the "food stamps" of the pet world.
5. Perceived value