ENFORCEMENT OF STICKER REGULATION AMONG STUDENT IN UUM
by uzumaki naruto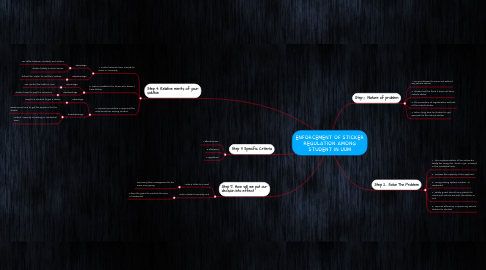 1. Step 1 . Nature of problem
1.1. 1. Do not allowed to come out without any vehicle sticker.
1.2. 2. Student will be fined if does not have vehicle sticker.
1.3. 3. the procedure of registeration and sale of the vehicle sticker.
1.4. 4. take a long time for student to get approval for the vehicle sticker.
2. Step 2 . Solve The Problem
2.1. 1. The implementation of the automatic safety bar using the "touch n go" concept in the residential area.
2.2. 2. Increase the capacity of the applicant
2.3. 3. Using parking system number at residential
2.4. 4. Safety guard should carry patrols to check park vehicle are with the sticker or not.
2.5. 5. Improve efficiency in approving vehicle stickers for student
3. Step 3. Specific Criteria
3.1. 1.effectiveness
3.2. 2.efficiency
3.3. 3.regulation
4. Step 4. Relative merits of your solution
4.1. 1. control vehicles from outside to come in university
4.1.1. advantage
4.1.1.1. can differ between students and visitors
4.1.1.2. student safety is more secure
4.1.2. disadvantage
4.1.2.1. difficult for visitor to visit their relative
4.2. 2. make a roadblock for those who doesn't have sticker
4.2.1. advantage
4.2.1.1. can control the traffic in uum
4.2.2. disadvantage
4.2.2.1. student need to pay the summons
4.3. 3. improve procedure in approval the vehicles sticker among student
4.3.1. advantage
4.3.1.1. easy for a student to get a sticker
4.3.2. disadvantange
4.3.2.1. waste more time to get the approval for the sticker.
4.3.2.2. limited capacity of parking in residential area
5. Step 5. How will we put our decision into effect
5.1. Write a letter to u-assit
5.1.1. improving their management to be more easy going
5.2. write a letter to security unit
5.2.1. Pllace the guard to controls the area of residential.