Big Idea: Technology Integration Overarching Goal: Learners will be able to create structures for incorporating technology in the classroom in a transformative way
by Stephanie Maxwell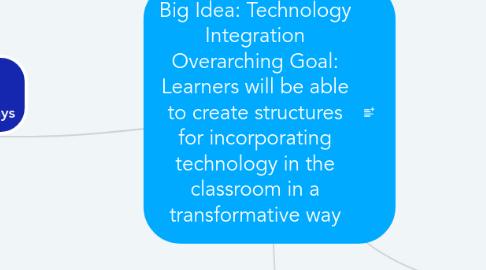 1. Goal 1: Self evaluation
1.1. Understandings: Every teacher is at a different comfort level when it comes to integrating technology into their lessons. It is important to be reflective and realistic when it comes to setting goals.
1.1.1. Objective 1: Learners will be able to identify their initial level of competence, and define growth goals
1.1.1.1. Assessment Evidence: SMART Goal creation and checked against a rubric
1.1.1.2. Performance tasks: Evaluate several examples of SMART goals, fill in a template, get feedback, modify/finalize
1.1.1.2.1. Learning Plan/Activities: Self evaluation of current curriculum - define current goals, identify proficiencies/ deficiencies in current curriculum - identify possible methods/tools that would enhance and maximize potential of both teachers and students
1.2. Essential Questions: Am I already using edTech tools in my classroom? If so, am I doing it effectively? How do I know?
2. Goal 2: Increase student engagement and differentiation with Web 2.0 tools
2.1. Understandings: Web 2.0 tools can enhance a curriculum by connecting the classroom with each other and beyond, allowing students to engage in ways not possible in the traditional classroom. It is important that there are set guidelines for student use of these tools as well as proper understanding of how the tools are used to ensure they are used efficiently and in a way that enhances instruction rather than detract from it.
2.1.1. Objective 2: Learners will be able to identify different methods for increasing student engagement with technology
2.1.1.1. Assessment Evidence: Creation and potential testing of student engagement rubric to determine engagement levels in class
2.1.1.2. Performance Tasks: Create a lesson that uses a web 2.0 tool to differentiate in a blended learning environment.
2.1.1.2.1. Learning Plan/Activities: Use a decision flowchart (created by instructor(s)) to determine which tool might be right for you. Discover methods of using it to either provide extra support, extend an activity, or group students in order to facilitate differentiation.
2.2. Essential Questions: In what ways can Web 2.0 tools enhance the current curriculum? Are Web 2.0 tools already in place? What frustrations are teachers and students experiencing with these tools?
3. Goal 3: Increase learner confidence in using new tools
3.1. Essential Questions: What apprehensions or frustrations are teachers experiencing with technology tools in the classroom? How can new tools be integrated more seamlessly?
3.2. Understandings: Integrating new technology tools to a curriculum can be frustrating, especially when an instructor has relied on more antiquated tools for some time. Disruptions to long-set methods, even when the end result is beneficial, can be irritating and lead to lack of confidence in these tools.
3.2.1. Objective 3: Learners will be able to utilize technology tools confidently and comfortably to maximize their impact and potential in the classroom
3.2.1.1. Assessment Evidence: Self reflection survey (pre/post)
3.2.1.2. Performance Tasks: (???) Use specific time set aside during professional development work time to play with at least 3 new tools with or without the guidance of the edTech coach
3.2.1.2.1. Learning Plan/Activities:?? Create a reflective list about what is coming between you and using technology in your classroom. Review them with the edTech coach.
4. Goal 4: Use edTech tools/strategies in pedagogically beneficial ways
4.1. Understandings: Technology tools can detract from an educational environment just as much as they can benefit if not used correctly. It is important to set rigid guidelines for use and establish proper understanding of these tools so that they are used in a way that enhances a curriculum and maximizes both student and teacher potential.
4.1.1. Objective 4: Learners will be able to use technology to increase effective student-student, teacher-student, and student-content interactions
4.1.1.1. Assessment: Curriculum should be subject to the WHERETO elements of instructional planning to ensure effectiveness
4.1.1.2. Performance Tasks: Use the SAMR model to sort sample activities. Come up with their own strategies to assess learning tools' effectiveness.
4.1.1.2.1. Learning Plan/Activities: Learn about SAMR model. Read resources about technology integration pitfalls and successes, and compare the strategies used.
4.2. Essential Questions: How do you know if a tool is adding, enhancing, or taking away from a learning experience?
5. Goal 5: Ensure Learners are aware of, and modeling Global Digital Citizenship (including accessibility)
5.1. Understandings: It is critical to be healthy, safe, ethical, and legal while using technology.
5.1.1. Objective 5: Learners will be able to advocate for and model safe, legal and ethical use of digital technology while addressing the needs of all learners through promoting equitable access to digital tools and resources
5.1.1.1. Assessment Evidence: Rubric for citations. Lesson implementation effectiveness(?)
5.1.1.2. Performance Tasks: Develop a classroom plan for netiquette norms. Create a lesson on cyberbullying. Cite appropriately. Create a lesson on cultural awareness
5.1.1.2.1. Learning Plan/Activities: Learn about netiquette, cyberbullying, digital footprints, student privacy, plagiarism. copyright vs fair use, filter bubbles, accessibility, and cultural awareness through a variety of resources (articles, videos, book chapters)
5.2. Essential Questions: How does the rapid increase in technology use impact online interactions? What are the implications of students growing up in the digital age, and how might this impact technology integration in the classroom?