My Awesome Goal
by Ahram Ryu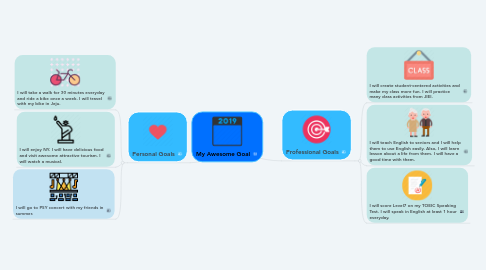 1. Professional Goals
1.1. I will create student-centered activities and make my class more fun. I will practice many class activities from JIEI.
1.2. I will teach English to seniors and I will help them to use English easily. Also, I will learn lesson about a life from them. I will have a good time with them.
1.3. I will score Level7 on my TOEIC Speaking Test. I will speak in English at least 1 hour everyday.
2. Personal Goals
2.1. I will take a walk for 30 minutes everyday and ride a bike once a week. I will travel with my bike in Jeju.
2.2. I will enjoy NY. I will have delicious food and visit awesome attractive tourism. I will watch a musical.
2.3. I will go to PSY concert with my friends in summer.