Learning2.0
by
Brent Schlenker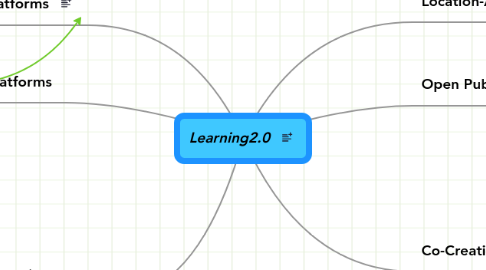 0.0
stars -
0
reviews range from
0
to
5
Learning2.0
Learning2.0 involves collaborative learning via web2.0 technologies, user-generated content, and so much more. (Mark) 1) Is Learning 2.0 completely unmanaged or, if managed, only managed by the individual learner? 2) Is Learning 2.0 comletely unmeasurable, or, if measured, only measured by the individual learner? 3) Is Learning 2.0 a field of learning practice, a movement, a tenet of constructivism, something else? 4) What exactly is the "so much more?" In this mind map, we're all gravitating to tools that allow for different modalities of mashing up existing content and authoring original content. By using the technologies in exchange with each other, we produce potentially interesting metadata and paradata, but how is that stuff used?
Location-Aware Platforms
Co-Creation Platforms
Knowledge Arenas
Artistic Arenas
Open Publishing Platforms
My concern with the blog, wiki, rss nodes is that they feel too small now to be stand alones that what we need is a larger, more 'meta' category if you will that speaks to the dynamics involved...broadcasting, conversations, etc (Mark) I'm concerned with this chart in general is that it's all tool focused. I've thrown in a definition of "social learning" (not from Bandura).  I just wish there was more depth presented here on the goals or learning philosophy that serves as its foundation, which is principally the criticism of the whole Learning 2.0 thing. (Aaron)
Microblogs
Blogs
Video
Social Platforms
Facebook
Community Enabling Tools
Enterprise Platforms
Makes it seem like Enterprise Platforms are different genetically from Social Platforms (Mark) These platforms are somewhat different in a couple of ways: 1) They are designed with collaboration and workgroup features in-mind. 2) Commercially available platforms are either standalone or allow API access and aggregation through RSS feeds -- APIs are great in Enterprise, RSS not so much because of the bulk in an RSS feed -- it clogs network traffic in a closed network, which is why IT folks give a frowny face when it's mentioned. 3) While not a rule, Jive and Sharepoint 2010 can be installed on servers within an organization's network 4) While many people would direct their own learning activity on platforms like Facebook, very few people would independently adopt Jive or Sharepoint. They certainly don't come to a Jive network vicariously -- they are channeled to it through other motivations (like work).(Aaron).
Jive
Socialcast
Sharepoint 2010
Pedagogy/Androgogy
"Social Learning" is learning evidenced from vicarious activity shared through near-peer relationships.