STUDENTS: How Does Inclusive Education Manifest in the Classroom and School?
by Amanda Hebert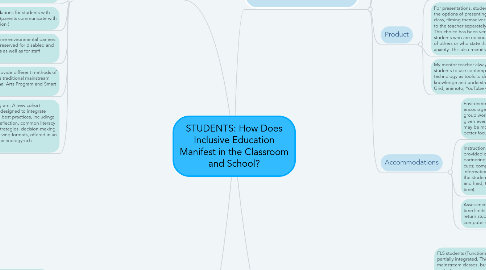 1. Classroom Environments
1.1. Are not all necessarily entirely accessible; some environmental barriers (lack of numerous wheelchair ramps).
1.2. Desks are set up at discretion of each respective teacher: I have noticed a few classrooms with student desks put together in groups, and in a giant 'U' shape. This would be most difficult for someone in a wheelchair.
1.3. One student (on crutches) was accommodated so that they were sitting closest to the door with the easiest access in and out, and they were permitted to leave and enter the classroom early to get access to the school elevator.
1.4. Technology (Chrome Books) is usually available in most classrooms for all students to use. iPads are available in the library.
1.5. Some classrooms (but not all) have Smart Boards in addition to white boards or chalkboards. Smart Boards are typically reserved for math classrooms and rooms dedicated to the Smart Start program.
2. Mentor Teacher's Classroom
2.1. Differentiated Instruction
2.2. Content
2.2.1. Ideas presented through auditory, visual, kinesthetic, and tactile means. Lessons are always multimodal (images, videos, written text, use of white board and Google Slides.)
2.3. Process
2.3.1. Teacher varies the length of time all students may take to complete tasks.
2.3.2. Note-taking organizers are sometimes provided if the lesson is more content-based.
2.3.3. Jigsaw method and Think, Pair, Share are used in order to allow students to collaborate and feel more at ease before sharing their ideas with the class and/or presenting them in a written or verbal project.
2.3.4. Role Play. Grade 11 and Grade 12 students had a few projects in which they were given the opportunity to role play the people and situations they were researching in order to demonstrate their knowledge of the content.
2.3.5. Mentor Teacher always provides access to Chrome Books for note taking, projects, and following along with the classroom lesson. My mentor teacher encourages students to bring and use their own devices as well.
2.4. Product
2.4.1. Fair balance of presentations, tests, 'technology-based' assignments, and written work.
2.4.2. For presentations, students always have the options of presenting in front of the class, filming themselves, and presenting to the teacher separately during lunchtime. This choice has been verbally praised by students who are nervous speaking in front of others or who state that they have anxiety. This also recruits interest.
2.4.3. My mentor teacher always enables students to use contemporary media and technology as tools to demonstrate knowledge and understanding (ex. Flip Grid, animoto, YouTube videos).
2.5. Accommodations
2.5.1. Environmental Accommodations: Teacher encourages alternative work space for group work; strategic seating (students are given every chance but if they misbehave may be moved to somewhere they can better focus).
2.5.2. Instructional Accommodations: notes provided on Google Classroom; partnering; graphic organizers; gesture cues; computer options; repetition of information; reinforcement incentives (ex. if the students prove they are working well and hard, they may get additional extra time).
2.5.3. Assessment Accommodations: extended time limits for assignments; prompts to return students' attention to tasks; computer options.
3. School Environment and Practices
3.1. Recognizes specific heritage and awareness days, weeks or months such as Asian, Italian, Aboriginal, Black History, Autism, and International Day Against Homophobia, Transphobia and Biphobia.
3.2. For ELLs, the new Welcome Ambassador Program is available. In this program, students learn about the importance of acting as an ambassador, so that students who are new to Canada feel welcomed and can develop a sense of belonging in our Catholic school communities.
3.3. Secondary students with exceptionalities attend a year-end outdoor retreat to celebrate their accomplishments during the school year.
3.4. Follows the framework of The York Catholic District School Board's Equity and Inclusive Education policy.
3.5. Regional Arts Program: Students specialize in Dance, Drama, Instrumental or Vocal Music or Visual Arts. RAP encourages students to appreciate all areas of the Arts and to seek a balance between academics and the Arts. Students in RAP are afforded many opportunities to perform, as part of an ensemble and in solo work, in front of an audience at a variety of events and in partnership with community groups through the run of the four year program.
3.6. Accommodations for students with disabilities (parents communicate with administration )
3.7. Helping overcome environmental barriers: The elevator is reserved for disabled and injured students as well as for staff purposes.
3.8. Programs that provide different methods of learning than the traditional mainstream program: Regional Arts Program and Smart Start Program.
3.9. Smart Start Program: A new cohort program that is designed to integrate evidence-based best practices, including: metacognitive reflection, common literacy and numeracy strategies, decision-making and problem-solving formats, offered in an innovative and technology-rich environment.
4. Special Education & Core Resource Centre
4.1. FLS students (Functional Living Skills) are partially integrated. They do attend mainstream classes, but not for full periods.
4.2. Observed during on-call in Parenting class - students left after about half an hour to complete activities in their own classroom. Students were given a completely different assignment than the other students.
4.3. FLS students have lunches together.
4.4. FLS students sell candy and other sweets during lunchtime: proceeds go to their program and their end of year party.
4.5. The school has a Core Resource Room that is available for students all four periods.
4.6. Students are pulled out of classes when they need assistance from Core Resource.
4.7. Students who require it may write their tests in the Core Resource Room.
4.8. I have overheard teachers complaining about how many students in their classes have IEPS.
4.9. One teacher in Special Education shared with our workroom that she was extremely frustrated with her job, because she spent more time on paperwork than working with her students. She told the workroom not to go into Special Education because there was too much red tape that impeded actually helping students.