United Way - Greater Toronto
by Ela C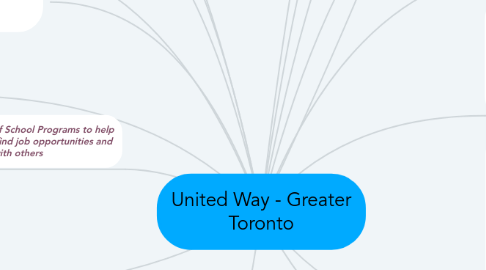 1. VISION AND GOALS +fighting local poverty and working on improving well being of communities in need +Creating better communities and Neighbourhoods +Providing social and economic opportunities for individuals +Working Towards Youth Success
2. Helping individuals feel like they are a part of the community.
3. Help Fight Poverty
4. "Ensuring access to a broad range of programs and services for everyone, close to home "
5. Helping individuals build social connections
6. Providing people with social and economic opportunities
7. Career Navigator Career: helping Youth access education, training, job placement, soft skills and support services. +Partnerships with agencies and employers +helping youth to find jobs in construction and hospitality Youth Success Grants: creating opportunities for Youth facing barriers
8. netWORKS: Service helping individuals make connections and find work
9. FOCUS Toronto: FOCUS Toronto is a partnership between United Way, the City of Toronto, Toronto Police Services, and 90 community agencies that work together to connect those most vulnerable to violence, including youth, to vital community supports.
10. Girls Incorporated of York Region's Leadership Program: offers lunchtime and after-school activities that build life skills and confidence Skylark Children, Youth and Families: The Studio is an arts-based drop-in centre for youth aged 13 to 21 that prioritizes LGBTQ+ youth and includes both formal and informal programming.
11. "Building Strong Neighbourhoods has invested $269 million across Toronto's inner suburbs from 2005 to 2014, and 220 United Way programs and services are now available to residents who live in priority neighbourhoods."
12. Improving Neighbourhoods by helping residents build stronger connections and relationships - adding playgrounds, gardens, and recreational and cultural activities. This helps people connect, especially new immigrants in Canada. People feel an sense of "community" and inclusiveness.
13. Outside of School Programs to help students find job opportunities and connect with others
14. The program supports equity and inclusion for marginalized communities because it allows individuals access to support within their community. individuals are offered career, social, and economical support. This program also strives to create positive changes within the communities. Better neighbourhoods are created where people feel like they are a part of the community. Immigrants and those marginalized offered support and assistance to become more engaged socially and economically.
15. Fighting POVERTY, Homelessness, and Youth Unemployment
16. Working on creating better Neighbourhoods and communities
17. Working Towards Youth Success - Providing mental health counselling and resume workshops
18. "By 2025, backed by donors, United way will have connected 10,000 young people to the education, skills and professional networks and experiences that will put them on the path to long-term economic stability"