simple tips to manage and reduce your stress levels.
by Max Jakkrathorn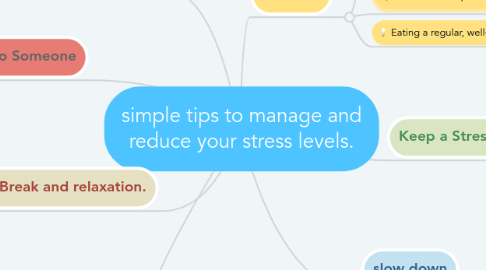 1. Eat well
1.1. Avoid or reduce your intake of sugars.
1.2. Avoid Caffeine, Alcohol, and Nicotine.
1.3. Eating a regular, well-balanced diet.
2. Get More Sleep
2.1. taking a warm bath before going to bed.
2.2. Reading a calming book at the bedtime.
3. Take a Break and relaxation.
3.1. Add the Physical activity into your daily routine.
3.2. Spending time in nature.
3.3. Make Time for Hobbies.
3.4. Rest If You Are Ill.
4. Talk to Someone
4.1. find solutions to reduce your stress.
4.2. selecting the best solution.
5. Keep a Stress Diary
5.1. Note how you felt both physically and emotionally.
5.2. Note what is a cause of your stress.
5.3. Use a diary to understanding and manage your stress.
6. slow down
6.1. Set your watch 5 to 10 minutes ahead.
6.2. Make a planner list of all the things that you need to do in daily life.
7. Go easy on yourself.
7.1. Accept that you can't do things perfectly.
7.2. Learn to say ''NO''.