TECHNOLOGY IN TEACHING ENGLISH AS A FOREIGN LANGUAGE
by lili bla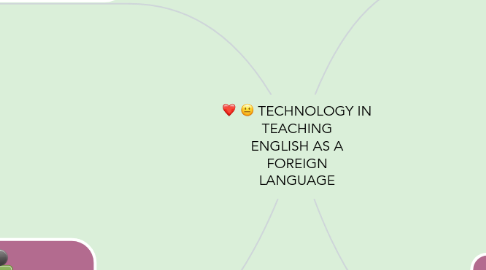 1. MOBILE DEVICES (cellphone app)
1.1. OBJECTIVES
1.2. Practice language
1.3. Improving writing skills
1.4. Allow grammar review
1.5. Allow feedback
2. MICROBLOGGING TOOL
2.1. OBJECTIVES
2.1.1. Learn to use the tool
2.1.2. Become critical thinkers
2.2. Engaging with information, texting, watching videos, listening to music, writing papers. (Adams, 2013)
2.3. Incorporate digital literacies
2.4. Interactive writing
2.5. Promote feedback
3. DIGITAL GAMING LITERACIES
3.1. Facebook/game: Mafia wars
3.2. DIGITAL LITERACIES
3.2.1. Analizing situations
3.2.2. Evaluate visual and texts cues
3.2.3. working in team
3.2.4. searching of information in forus, wikipedia
3.3. Use of this digital literacies in order to...
3.3.1. Practice and improving writing
3.3.2. work collaboratively
3.3.3. Construction ideas through a community
3.3.4. Create persuading papers
3.3.5. Achieve effective communication
4. MOBILE LEARNING (use of postcards)
4.1. OBJETIVES
4.1.1. Facilitate the teaching of second language (it uses like a complement)
4.1.2. Acquisition of knowledge through movile devices
4.1.3. Aspects to improve in writing skills
4.1.3.1. Structure, cohesión, grammatical aspects, graphology and spelling.
4.1.3.2. Use of Genres: personal recounts, autobiography and short story
4.1.4. FSL offers tools to identify linguistic characteristics