Service Coordination for People with Developmental Disabilities (SCS)
by Adam Peter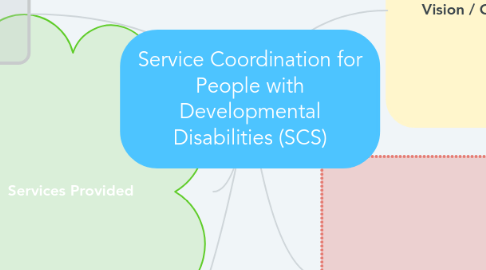 1. Vision / Goals
1.1. "SCS supports people with developmental disabilities and children with autism in finding available resources and planning for the future of their choice."
1.2. Values include: advocacy, empowerment, equity, partnerships, transparency, and diversity
1.2.1. Diversity is key to note as it is their acknowledgement of the need to respect and be sensitive towards different cultures
1.2.2. Equity is also important to note as it is about fair access for all to their resources
2. Accessibility
2.1. Resources are made available who to children who meet the standards of their intake criteria
2.1.1. Children must be possess sub-average general intellectual functioning skills and have significant limitations in at least two life skills categories (self-care, communication, social skills, etc.)
2.1.2. Registration is made more accessible for different groups by having multiple registration options.
2.1.2.1. Online registration
2.1.2.2. Registration assistance with a children's intake worker. This creates greater accessibility for minority groups who may have difficulty with online language that acts as a barrier.
3. Services Provided
3.1. Once an Initial Needs Assessment is completed, case management will help create an individual support plan
3.1.1. The support plan connects families with community resources that include a very broad range of services
3.1.1.1. Respite services
3.1.1.2. Summer camps
3.1.1.3. Government organizations
3.1.1.4. Health services
3.1.1.5. Parental resources
3.1.1.6. Transition planning
3.1.1.7. Social activities
4. Adult Supports
4.1. SCS also offers adult support which is helpful for youth transitioning out of schools.
5. Other Observations
5.1. SCS offers a variety of pertinent resources for any parent who has a child with autism.
5.2. This would be a strong starting point for any parent in the Ottawa area looking to meet their child's needs.
5.3. At least 8 case managers available on staff for direct contact.
5.4. Services offered in both French and English