Launch of an Adaptive Fashion Line at ASOS
by Theresa Schäfer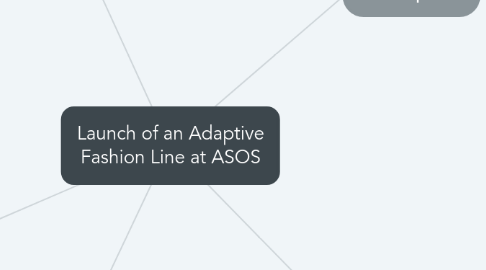 1. Value Proposition
1.1. Address needs and wants of disabled consumers
1.1.1. Clothes with an adjusted fit or alternative closures facilities the life of many consumers
1.2. Create emotional buying experience
1.2.1. Many disabled people work with seamstresses, two challenges: additional expenses as well as no emotional buying or experience
1.2.1.1. Offer a wide range of designs, not only a few pieces and make them accessible and affordable for the majority
1.3. Work against lack of representation of disabled people in (fashion) media
1.3.1. Include people with disabilities in campaigns/ social media/ website
1.3.1.1. Look at examples such as River Island or Tommy Hilfiger
1.4. Make adaptive fashion fashionable and functional
1.4.1. Follow current trends
2. Customer Segments
2.1. People with some form of disability
2.1.1. 15% of world's population experience some form of disability (over 1 billion people worldwide)
2.1.2. Global spending power of $1.2 trillion
2.2. Family and Friends
2.2.1. Global spending power reaches $ 6.9 trillion when family and friends included
2.3. Female and Male Millennials (22-37) - Aligned to ASOS target
2.3.1. Still studying or entering work life, therefore desire to find "business looks", more classic and elegant styles
2.3.1.1. Low to medium income, therefore seeks affordable prices
2.3.1.1.1. Quality matters
2.4. Part of Post-Millennials Female and Male (15-21) - Aligned to ASOS Target
2.4.1. They most probably go to school or university and feel the desire to dress as their classmates
2.4.1.1. No or low income, therefore seeks affordable prices
2.4.1.1.1. Quality matters
3. Product
3.1. Adjusted size or fit and alternative closures:
3.2. Features such as magnetic shoulder, front and back closures to help pull clothes over the head
3.3. Velcrobrand closures and magnetic flies for ease in wearing pants
3.4. Adjusted leg openings and hems to accommodate leg braces and orthotics
3.5. Magnetic zippers to enable individuals to zip and unzip with one hand
3.6. Pull-on pant loops inside of waist bands and fit around the wrist to pull on pants
3.7. Wheelchair-friendly jackets have side-openings and zip-on sleeves for easier dressing
4. WHY ASOS?
4.1. Asos offer for female consumers ranges from Curve & Plus Size, Maternity, Tall Fashion to Petite Fashion, as well as Plus Size and Tall for Men
4.2. In-House line
4.3. Purpose of ASOS underlines and matches the proposal: giving people the confidence to be who they want to be through everything we say and do - including setting standards for inclusivity, diversity and ethical and sustainable fashion
4.4. Fast, quick, easy, free delivery and returns enable customers to try clothes on at home
4.5. Diverse and equal reputation
4.6. High brand awareness and already existing target
5. Competitors
5.1. Tommy Hilfiger "Tommy Adaptive"
5.2. Marks & Spencer
5.3. Target "Target Adaptive"
5.4. Silvert's