JOB INTERVIEW QUESTIONS
by farid izzeham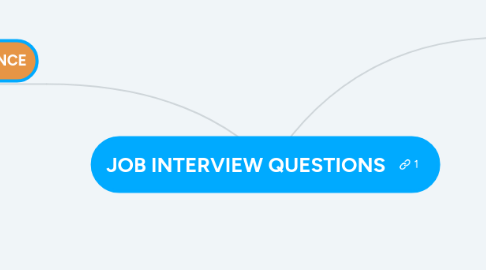 1. WORK EXPERIENCE
1.1. 1. WHAT DID YOU DO DURING YOUR INDUSTRIAL TRAINING
1.1.1. Tell them where we do industrial training
1.1.1.1. At a networking maintainnance company
1.1.2. Tell them what job role we do
1.1.2.1. Troubleshoot the system
1.1.2.2. Configure and test computer equipment of local area network.
1.1.2.3. Designing and installing well-functioning computer networks, connections and cabling
1.1.2.4. Do regular data backups to protect the organization's information
1.2. 2. WHAT HAVE YOU LEARNED FROM YOUR INDUSTRIAL TRAINING EXPERIENCE ?
1.2.1. Apply technical knowledge and methods to a real-life situations.
1.2.2. Work with other professionals.
1.2.3. Increase your technical, interpersonal and communication skills.
1.2.4. Witness the functioning and organisation of business and companies.
1.3. 3.What relevant work experience do you have?
1.3.1. Tell them what work we have done before
1.3.1.1. Part time job
1.3.1.1.1. Promoter
1.3.1.1.2. Waiter
1.3.2. Share what did you learn from your work before
1.3.2.1. Work as a team
1.3.2.2. Patience
1.3.2.3. Communication skills
1.3.2.4. Overtime work
1.3.2.5. Leadership skills
1.4. 4.Which do you think is more important- qualification or work experience?
1.4.1. Give your opinion confidently
1.4.2. Explain why you choose that answer
1.4.3. Conclude your answer confidently
2. OTHERS
2.1. 1. What's more important to you - the work itself or how much you're paid for doing it ?
2.1.1. The work itself
2.1.1.1. We can make the work easier because we have the experiece about that.
2.1.1.2. Work what we have learn or study
2.1.2. About payment
2.1.2.1. The payment must suitable with what we work for
2.1.2.2. Hight payment for hard work
2.2. What changes would you make to your polytechnic
2.2.1. No class after 3pm
2.2.1.1. because student feel exausted
2.2.1.2. student cannot concerntrate
2.2.2. Tighten the rule for the discipline worker on future
2.2.2.1. Short haircut for male student
2.2.2.2. Start class on 7.30
2.2.3. Make more practical for student
2.3. WHERE DO YOU SEE YOURSELF IN 5 YEARS
2.3.1. TELL THEM OUR GOALS
2.3.1.1. BE THE BEST AT WHAT I DO
2.3.1.2. WORK SOMEWHERE THAT WILL HELP ME TO DEVELOP MY SKILLS
2.3.1.3. MAKE OUR PARENT HAPPY
2.3.1.4. HAVE GOOD FINANCIAL
2.4. DO YOU INTENT TO FURTHER YOUR STUDIES
2.4.1. TELL THEM WHERE WILL WE FURTHER STUDIES
2.4.1.1. OVERSEAS
2.4.1.2. LOCAL UNIVERSITIES
2.4.2. TELL THEM OUR TARGET
2.4.2.1. GET EXCELLENT RESULT
2.4.2.2. WORK FOR THE COMPANY WITH GREAT POSITION
2.4.2.3. APPLY KNOWLEDGE FOR GOOD FUTURE
2.5. WHAT IRRITATES YOU MOST ABOUT OTHER PEOPLE AND HOW DO YOU DEAL WITH IT
2.5.1. TELL THEM WHAT IRRITATES YOU
2.5.1.1. SOME PEOPLE PRETEND TO BE GOOD BUT ACTUALLY NOT
2.5.1.2. SOME PEOPLE CANNOT GIVE GOOD COOPERATION
2.5.1.3. ALWAYS TALK TALK TALK(THINGS THAT NOT IMPORTANT AND TIME WASTING)
2.5.1.4. ALWAYS COMPLAINING
2.5.1.5. NOT PUNCTUAL
2.5.2. TELL THEM HOW YOU DEAL
2.5.2.1. BE GOOD TO OTHER PEOPLE
2.5.2.2. GIVE WISDOM ADVICE
2.5.2.3. SPREAD GOOD VIBE
2.5.2.4. IGNORE PEOPLE THAT IRRITATES ME