Facts on Disability - World Health Organization
by Ana Celia Peñafiel V.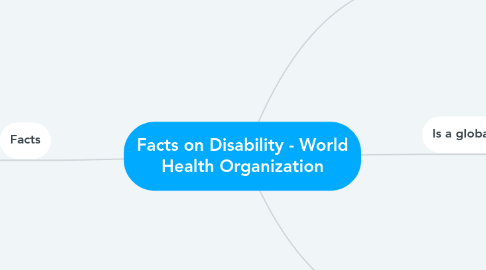 1. Is a global public health issue
2. Is a human rigths issue
3. Is a development priority
4. Facts
4.1. Many people live whith some from of disability
4.2. The numbers of people with disability are increasing
4.3. People whit disability are affected during the Covid-19 pandemic
4.4. People with disability often do not receive needed healthcare
4.5. The unmet needs of children with disabilities have increased considerably, as health services have not expanded to meet the growing need.
4.6. People with disability are more likely to be unemployed than people without disability
4.7. People with disability are vulnerable to poverty
4.8. People with disability can live and participate in the community
4.9. Disabling barriers can be overcome
4.10. Recognizing that disability is a human rights issue, the Convention on the Rights of Persons with Disabilities (CRPD) promotes, protects and ensures human rights for all persons with disability
5. UNIVERSIDAD AUTÓNOMA DEL ESTADO DE HIDALGO INSTITUTO DE CIENCIAS SOCIALES Y HUMANIDADES ÁREA ACADÉMICA DE CIENCIAS DE LA EDUCACIÓN LICENCIATURA EN INNOVACIÓN Y TECNOLOGÍA EDUCATIVA
6. Bibliografía. WHO (2020). 10 Facts on disability.
7. Elaborado por: ISC. Ana Celia Peñafiel Velázquez. Fecha: Diciembre, 2020.