It permits to organize marketing processes, with the purpose of reaching customers in a easier way according to services and costs. To realize it, we have to take into account two aspects principally:
by Rusby Tibocha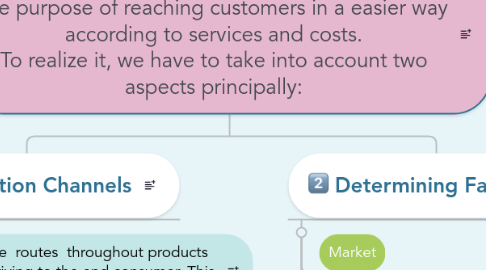 1. Distribution Channels
1.1. These are the routes throughout products pass until arriving to the end consumer. This process is divided in three parts:
1.1.1. 1. Producer: Who manufactures goods or services
1.1.1.1. 2. Intermediary: It could be wholesaler, retailer an in general dealers who reach to the costumers directly
1.1.2. 3. Consumer: They are the goal or the target market.
2. Determining Factors
2.1. Market
2.1.1. People with needs to be satisfied
2.2. Products
2.2.1. It is related with what we are offering to satisfy the market needs.
2.2.1.1. These have to be evaluated according to two important aspects: Presentation and quality.
2.3. Intermediaries
2.3.1. They are who help to make the connection between the producer and the end consumer, throught a inderect channel.
2.4. Company
2.4.1. They are companies with people that have similar objectives in ordet to satisfy customers.