THE RAIN CAPITULO 3
by camina Rodriguez Bernal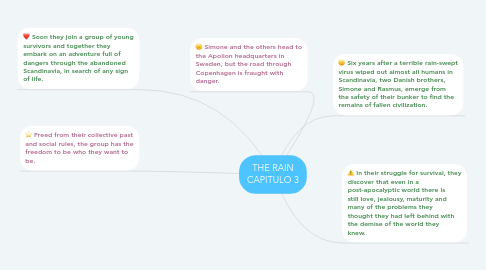 1. Simone and the others head to the Apollon headquarters in Sweden, but the road through Copenhagen is fraught with danger.
2. Six years after a terrible rain-swept virus wiped out almost all humans in Scandinavia, two Danish brothers, Simone and Rasmus, emerge from the safety of their bunker to find the remains of fallen civilization.
3. Soon they join a group of young survivors and together they embark on an adventure full of dangers through the abandoned Scandinavia, in search of any sign of life.
4. Freed from their collective past and social rules, the group has the freedom to be who they want to be.
5. In their struggle for survival, they discover that even in a post-apocalyptic world there is still love, jealousy, maturity and many of the problems they thought they had left behind with the demise of the world they knew.