SECURITY PLAN THAT CAN BE APPLIED TO SOLVE DEFICIENT IN SOME KEY AREAS OF INFORMATION SECURITY IN OFISGATE COMPANY
by Aiman Marfuah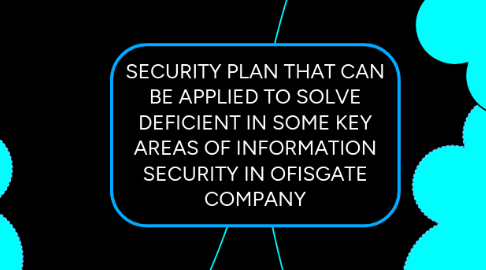 1. HOW TO CREATE AWARENESS AMONG EMPLOYEES TO STAY ALERT OF ANY VARIOUS THREATS OF INFORMATION
1.1. KEEPING SYSTEMS UP TO DATE BY APPLYING THE LATEST PATCHES TO COMPUTERS, SERVERS, AND HARDWARE. These patches often contain essential security updates that plug known vulnerabilities.
1.2. ESTABLISHING A PROCESS FOR THE BACKUP AND RECOVERY OF ESSENTIAL DATA. With this in place, a business can recover from ransomware threats and destruction caused by insider threats without expensive cleanup costs.
1.3. NEVER EVER GET TRICK BY A PHISHING SCAMS. Through phishing potential hackers might try to acquire information such as username, passwords or get you to download malware.
1.4. PROPERLY CONFIGURED SECURITY CONTROLS THAT ALERT YOU TO POSSIBLE ATTACKS. These include firewalls, anti-malware applications, intrusion detection and prevention solutions, and email security solutions.
1.5. CONSIDER CAREFULLY WHAT INFORMATION YOU PUT ON THE INTERNET. Every information that you put on the internet can be discovered by cyber criminals and it might help an attacker prepare a targeted attack against you.
2. WAYS ON HOW TO MAKE A STRONG PASSWORD SECURITY
2.1. MAKE YOUR PASSWORD LONG. The longer and more complex your password is, the longer hacker take process to break it. Passwords that are three characters long take less than a second to crack.
2.2. MAKE YOUR PASSWORD A NONSENSE PHRASE. Long passwords are good; long passwords that include random words and phrases are better. If your letter combinations are not in the dictionary, your phrases are not in published literature, and none of it is grammatically correct, they will be harder to crack.
2.3. INCLUDE NUMBERS, SYMBOLS, AND UPPERCASE AND LOWERCASE LETTERS. Randomly mix up symbols and numbers with letters. You could substitute a zero for the letter O or @ for the letter A, for example. If your password is a phrase, consider capitalizing the first letter of each new word, which will be easier for you to remember.
2.4. AVOID USING OBVIOUS PERSONAL INFORMATION. If there is information about you that is easily discoverable—such as your birthday, anniversary, address, city of birth, high school, and relatives' and pets' names—do not include them in your password. These only make your password easier to guess.
2.5. CHANGE YOUR PASSWORDS REGULARLY. The more sensitive your information is, the more often you should change your password. Once it is changed, do not use that password again for a very long time.
3. TIPS TO PREVENT ANY TYPE OF SOCIAL ENGINEERING
3.1. DELETE ANY REQUEST FOR FINANCIAL INFORMATION OR PASSWORDS. If you get asked to reply to a message with personal information, it's a scam.
3.2. SLOW DOWN. Spammers want you to act first and think later. If the message conveys a sense of urgency or uses high-pressure sales tactics be skeptical; never let their urgency influence your careful review.
3.3. RESEARCH THE FACTS. Be suspicious of any unsolicited messages. If the email looks like it is from a company you use, do your own research. Use a search engine to go to the real company's site, or a phone directory to find their phone number.
3.4. BEWARE OF ANY DOWNLOAD. If you don't know the sender personally AND expect a file from them, downloading anything is a mistake.
3.5. EMAIL HIJACKING IS RAMPANT. Hackers, spammers, and social engineers taking over control of people's email accounts (and other communication accounts) has become rampant. Once they control an email account, they prey on the trust of the person's contacts. Even when the sender appears to be someone you know, if you aren't expecting an email with a link or attachment check with your friend before opening links or downloading.