John Lee Hooker: He was one of the most creative artists with the way he put his music together. The sound was so different from most blues artists.
by airen crowell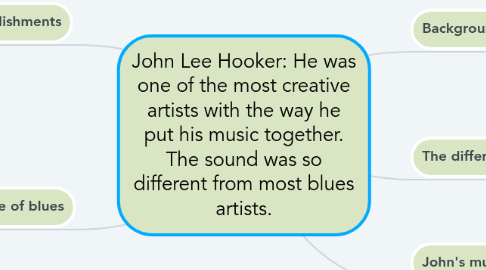 1. Background on "Hooker's" life
1.1. John grew up in a household of 11 children.
1.2. John has been playing musical instruments his whole life.
1.3. John Lee Hooker's first instrument was a set of "strings" made from strips of inner tube nailed to a barn wall.
2. Accomplishments
2.1. His first million-selling single "Boogie chillen" was in 1948
2.2. Won the Grammy's well into his 70s
2.3. He recorded more than 100 albums, many under Pseudonyms like Birmingham Sam and his Magic Guitar and the Boogie Man.
3. How John was the face of blues
3.1. Hooker represented the enduring, even flourishing appeal of the Blues.
3.2. He could captivate you in a single-cord song.
3.3. Rock, Jazz, Pop, and Hip-hop all of those roads lead back to the Blues.
3.4. Hooker recasts a signature riff from a ternary to a binary beat subdivision, paving the way for the Triple-to-duple shift that characterized mid-century american popular music.
4. The different styles John has
4.1. His unadorned yet subtly rhythmic music was the perfect match for his austere, often heart breaking lyrics.
4.2. He sang with Gospel Quartets
5. John's musical style
5.1. Nobody could quite match John Lee Hooker's singular sound.
5.2. John graduated to a guitar, but the rawness of that first instrument remained a part of his music all his life.